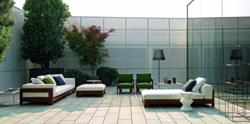 Houston, TX (PRWEB) March 27, 2013
Internum, a luxury and designer furniture store located in Houston and Miami, has just published an impressive catalog presenting all of the products offered in the Lifescape Collection – Minotti's collection of outdoor furniture products – along with countless detailed illustrations. This collection arrives just in time to decorate patios for the warm-weather months.
Minotti is an internationally-known furniture brand founded in Italy in the 1950s. Minotti's products are still made in Italy with an emphasis on tradition and technology.
An entire series of stunningly beautiful photographs is dedicated to each of the products that make up the Lifescape Collection. Numerous close-up shots focus on the construction of details of each element, highlighting the features that distinguish the special finishes developed specifically for use in outdoor settings.
The "Materials Performance" section of the catalog provides detailed information about the materials that were selected and scientifically tested in order to guarantee the reliability and durability of the products in the Lifescape Collection.
The launch of the Lifescape Collection came with the design of an accompanying fabric collection that works perfectly with Minotti's style and sophistication while meeting all the requirements for outdoor use.
The entire collection is available at Minotti's website, http://www.minotti.com, in the Product section. The catalog can be requested by visiting Internum's website, http://internum.com.
About the company:
At Internum, customers will find internationally-recognized European luxury furniture brands such as Acerbis, Antonello Italia, Arketipo, Baxter, Casamilano, Cappellini, Emmebi, Flexform, Gervasoni, Giorgio Collection, and Kenzo Maison, among many others. The way these brands work and treat the leathers, fabrics, woods and any other materials they incorporate in their artistic designs are some of the features that make them the preferred choice in the international furniture industry. Internum's Houston showroom is located at 3303 Kirby Drive and open from 10 a.m. to 6 p.m. Monday through Saturday, as well as Sundays from 12-5 p.m. Contact Internum at (832) 242-9475.