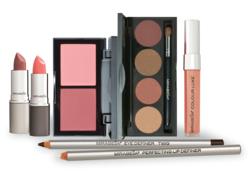 "Mirabella Bride was created to eliminate the guesswork when it comes to applying wedding day makeup," explains Amber Bowen, Mirabella Creative Director.
Valencia, CA (PRWEB) March 28, 2013
Mineral makeup brand Mirabella Bride announces the launch of the new Bohemian bridal makeup kit for spring. This kit includes everything needed to effortlessly create a bohemian bridal look, with seven assorted products for eyes, lip and cheek.
"Mirabella Bride was created to eliminate the guesswork when it comes to applying wedding makeup," explains Amber Bowen, Mirabella Creative Director. "For a free spirited bride, the new Bohemian kit includes makeup in warm pink, peach and brown hues for a soft look that will emphasize features naturally. Each kit also contains a face chart showing where to apply makeup, step-by-step application tips and a QR code linking to artistry video – all perfect for DIY makeup."
Bohemian Bride features eye shadows and liner designed to create a neutral yet defined eye. The Eye Colour palette – offering eye shadows in Décor, Semiformal, Bark and Sienna – can be used for flawless, long-lasting looks with smooth color. Twig Eye Definer, in a rich brown hue, lines the eyes with fine, precise lines to make eyes pop. For cheeks, the Bohemian kit includes the Blissful Blush Colour Duo, with two complementary, mineral-based hues designed to deliver pure color evenly, while giving cheeks a radiant glow.
The kit also includes four lip products – Perfecting Lip Definer, Amaretto Lip Colour, Peony Colour Sheers, and Colour Luxe Lip Gloss in Spark.
"Perfecting Lip Definer is a clear lip liner that creates a protective barrier so products stay put – even through that first kiss as husband and wife!" adds Bowen. "When it comes to lips, versatility is key. Amaretto Lip Colour is ideal for the bride seeking a long-lasting formula and rich, full color, while Peony Colour Sheers is intensely moisturizing and delivers translucent color for a soft, sheer finish. Colour Luxe lip gloss is perfect for a photo-ready finish, thanks to light-reflecting shimmer, and can be layered over either lipstick or worn alone."
Bohemian will join the five additional kits currently offered in the Mirabella Bride collection, which include: Daydreamer, Sentimental, The Sophisticate, City Chic and Brazen Beauty.
Bohemian Bride will be available beginning April 2013 at http://www.mirabellabride.com and http://www.mirabellabeauty.com.
About Mirabella:
Mirabella Beauty is the leading line of cosmetics used by salon and spa professionals, offering high-quality, mineral-based prestige cosmetics that are talc-free and paraben-free. With over 200 contemporary products for face, eyes and lips, as well as professional tools, Mirabella is best known for its wide range of shades with modern colors, quality formulas, the use of innovative technology, and a strong emphasis on education. Mirabella takes the guesswork out of makeup with the Fitzpatrick Skin Type Test to determine the right tonal match for any skin tone. For more information, please visit http://www.mirabellabeauty.com. Follow Mirabella on Twitter and become a Facebook fan!