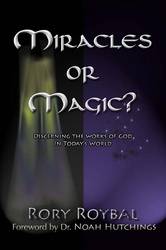 The author ... has done a tremendous service in bringing out the Truth of God's Word on this extremely sensitive and controversial subject.
Longwood, FL (PRWEB) September 18, 2007
We hear more and more about miraculous events. Inspirational religious leaders draw thousands with promises of healing and deliverance.
The Bible says that as we approach the last days right before the Second Coming of Jesus Christ, people will allow themselves to be deceived by agents of Satan that present magic events as miracles. With counterfeit spirituality on the rise, how can we discern what is from God and what is from the devil?
Spiritual discernment is needed to see God clearly and recognize increasingly clever deceptions that masquerade in His name. "Miracles or Magic?" provides a sound Biblical, historical and scientific analysis for a unique, comprehensive understanding of this controversial topic. This captivating book offers practical advice and encouragement to keep one's spiritual journey on track, and inspires loving but revolutionary changes to the world around them. A detailed Appendix with views on tongues and healings from key Christian leaders and denominations throughout church history is included.
Book author Rory Roybal was recently interviewed by Southwest Radio Church on September 3-4. Full interview webcasts are available for listening at SWRC's website this month, or any time at http://www.miraclesormagic.com. "Miracles or Magic?" may be ordered from SWRC, Amazon.com, Barnesandnoble.com, Christianbook.com, or other online retailers.
Noah W. Hutchings, President, Southwest Radio Church Ministries:
"The author ... has done a tremendous service in bringing out the Truth of God's Word on this extremely sensitive and controversial subject."
As spiritual deception in this world rapidly increases, this book is a must read for both Christians and non-Christians.
About the Author:
Rory Roybal has more than 10 years of experience leading in-depth church and home Bible studies. He also has over 15 years of executive management experience, leading groups of up to 400 people and $33 million-plus technical business units. Roybal has been featured on the magazine cover of VB Tech Journal and served as editor-in-chief for the Unix System Price/Performance Guide, a high-technology periodical distributed quarterly to more than 15,000 computer buyers.
About Miracles or Magic?
Author: Rory Roybal
ISBN-10: 1597812501
ISBN-13: 978-1597812504
Format: Soft Cover, 9x6", 256 pages
Retail Price: $15.99
Publisher: Xulon Press
About Xulon Press:
Xulon Press, a part of Salem Communications Corporation, is the world's largest Christian publisher, with more than 3,900 titles published to date. Retailers may order "Miracles or Magic?" through Ingram Book Company and/or Spring Arbor Book Distributors.
###