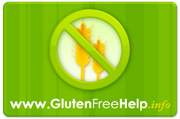 One of the best parts of running GlutenFreeHelp.info is getting to talk with important people in the celiac community," Miranda Jade said
Los Angeles, CA (PRWEB) September 28, 2012
Miranda Jade Turbin, the well known talent behind the award-winning website, http://www.GlutenFreeHelp.info, has been established a name for herself as a passionate advocate for the gluten-free community with her sought-after interviews of leading figures in the gluten-free community. Miranda Jade has interviewed a number of well-known celiac and gluten-free advocates and recently conducted an informative interview with Pam MacDonald, the celebrated owner of Los Angeles's only gluten-free grocery store, Pam MacD's.
"One of the best parts of running GlutenFreeHelp.info is getting to talk with important people in the celiac community," Miranda Jade said. "I get so much valuable information from them, and I can share their first-hand experience to help readers everywhere!"
Miranda Jade Turbin was named the official partner of the internationally acclaimed gluten-free resource site http://www.glutenfreehelp.info at the beginning of 2012. After an entire childhood of suffering with undiagnosed celiac disease and dermatitis herpetiformis (DH), also known as the "gluten rash," Miranda Jade Turbin was finally correctly diagnosed as a young adult. After recovering swiftly on the gluten-free diet, she became passionate about helping other celiacs and gluten-sensitive people. She set to work helping her mother, the award-winning children's author and celebrated celiac advocate Tina Turbin, with her website, http://www.GlutenFreeHelp.info. About a year later, Miranda Jade was announced as the official partner of the website, which was voted the #2 .info website in the world out of over 6.7 million registered .info sites. Since then, Miranda Jade has become known worldwide for her passionate and knowledgeable writing, her developed gluten-free and grain-free recipes, and her in-depth interviews with leading figures in the celiac community such as Pam MacDonald.
Pam MacDonald is a diagnosed celiac and the owner of the only dedicated gluten-free market in the Greater Los Angeles area. MacDonald opened up her grocery store in 2011 as a way of helping the gluten-free community meet the challenges of finding gluten-free groceries and products. In her interview with Miranda Jade, which has been published in two parts on the young blogger's acclaimed gluten-free resource website, http://www.GlutenFreeHelp.info, Pam shares her background and the story behind Pam MacD's as well as advice on adjusting to the gluten-free lifestyle. Part one of the interview can be found at http://glutenfreehelp.info/?p=6839: and part two can be read here: http://glutenfreehelp.info/?p=6841:
"The interview with Pam was terribly exciting and incredibly informative," Miranda Jade said. "Pam shared so much! I look forward to future opportunities in working with her to enlighten others even more."
###
TO BOOK TINA TURBIN OR MIRANDA JADE TURBIN FOR AN INTERVIEW OR SPEAKING ENGAGEMENT: Contact media(at)glutenfreehelp(dot)info.
TO LEARN MORE ABOUT MIRANDA JADE TURBIN, VISIT: http://glutenfreehelp.info/about-tina-turbin/
TO PURCHASE ANY OF THE GLUTEN-FREE EBOOKS VISIT: http://glutenfreehelp.info/gluten-free-and-celiac-ebooks-available-here/
ABOUT TINA TURBIN, FOUNDER OF GLUTENFREEHELP.INFO: Tina Turbin wrote her first story at age sixteen, and has since gone on to enjoy tremendous success as a multi-award-winning author, humanitarian, and researcher. Working for many years in Los Angeles with children in the Entertainment Business, she remains an active supporter of children, families, and education and works as an advocate in the arenas of literacy and celiac disease. The Danny the Dragon series fulfills a passion of hers to delight and entertain through her enchanting characters. Turbin resides in her East and West Coast studios.
ABOUT MIRANDA JADE TURBIN, OFFICIAL PARTNER OF GLUTENFREEHELP.INFO: Miranda Jade Turbin was finally diagnosed with celiac disease after 18 years--her entire childhood--of repeated misdiagnoses, going from one doctor to the next and in and out of hospitals without any answers. Within two weeks of removing all gluten from her diet, Miranda Jade's life completely turned around. After her experience, she knew in her heart she had to help others as an advocate for celiac disease and gluten sensitivity. Miranda Jade teamed up with her mother Tina Turbin, also a diagnosed celiac and founder of the award-winning website GlutenFreeHelp.info, to this day handling all communications for this very busy website. Miranda Jade has gone on to write numerous eBooks, articles, reviews, and sought-after gluten-free grain-free recipes. Miranda Jade is bicoastal with gluten-free test kitchens on both coasts.
###
For more information or to schedule an interview, please call Rosie Newman 888-701-6481 or media(at)glutenfreehelp(dot)info