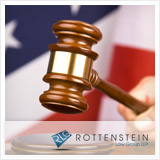 New York, NY (PRWEB) March 08, 2013
Bayer's Mirena IUD, a hormone-releasing birth control device, has been the subject of lawsuits, including discussions of federal consolidation. Now, a March 4 study published in the American Journal of Obstetrics and Gynecology* looked at what happened when a Mirena IUD migrated and got lost, only to be found once the woman was two months into a pregnancy. The Rottenstein Law Group represents women in Mirena IUD injury lawsuits and responds to the study with caution.
A 26-year-old woman was implanted with a Mirena three-and-a-half years ago. At a two-week follow-up examination, the device was undetectable, the study said. Only two years later, when she was found to be eight weeks pregnant and suffering abdominal pain, was a CT scan conducted and the IUD found in her left abdominal wall. The device was removed successfully, but the risks from the device migration were septic abortion and preterm labor, in addition to adhesion formation, infection or organ injury, the study said.
"The study outlines the documented risks involved with the Mirena," said Rochelle Rottenstein, principal of the Rottenstein Law Group, which currently represents clients in Mirena lawsuits nationwide. "These risks have been cited in Mirena lawsuits in a variety of jurisdictions in the United States. A federal court is even considering pretrial consolidation because of the increasing number of lawsuits filed over the same side effects."
Based on an FDA adverse events report** and the many phone calls a week the Rottenstein Law Group receives from women who allege serious Mirena side effects, the safety of the Mirena IUD is in question. The device was approved by the FDA in 2000 and was the only hormone-releasing IUD until earlier this year, when the FDA approved Skyla, a similar IUD also manufactured by Bayer.
When Rottenstein considers what she has heard from clients, the side effects discussed in the study are not the only ones reportedly associated with the Mirena, she said. In addition to the migration of the device around the uterus and into other parts of the body, there is also device perforation (puncture of the uterine wall) and embedment (the device becomes stuck in the uterine wall). These side effects, she said, have been the subject of lawsuits around the country, including Prendergast v. Bayer Pharmaceuticals Corp. (no. 13-00450, U.S. District Court for the Eastern District of Pennsylvania), and a multidistrict litigation (In re: Mirena IUD Products Liability Litigation, MDL No. 2434 (JPML)), as reported in Bloomberg.***
The Rottenstein Law Group encourages Mirena IUD recipients to download an informational brochure from its website to learn more about the device and related lawsuits and to help them evaluate if they have a case.
*ajog.org/article/PIIS0002937813002366/fulltext
**fda.gov/downloads/Drugs/DevelopmentApprovalProcess/DevelopmentResources/UCM245685.pdf
***bloomberg.com/news/2013-01-28/bayer-sued-over-alleged-hidden-risks-of-mirena-contraceptive-1-.html
About THE ROTTENSTEIN LAW GROUP
The Rottenstein Law Group is a New York-based firm that represents clients nationwide in mass tort actions. The firm was founded by Rochelle Rottenstein, who has more than two decades of experience as a lawyer, to represent clients hurt by defective medical devices. (Attorney advertising. Prior results do not guarantee a similar outcome.)
Contact:
The Rottenstein Law Group, LLP
Rochelle Rottenstein, Esq.
321 W. 44th Street
# 804
New York NY 10036
(212) 933-9500 (office phone)
(212) 933-9980 (facsimile)
rochelle (at) rotlaw (dot) com
http://www.rotlaw.com