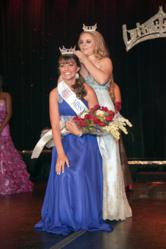 I was telling my dad how cool it would be if I won the Miss Nevada title and how I could travel around the state then -- and look what happened.
Mesquite, NV (PRWEB) July 06, 2011
Native Las Vegan Alana Lee hails from a prominent family which became even better known Saturday, July 2, when the energetic Miss Clark County earned the title of 2011 Miss Nevada during ceremonies here in the CasaBlanca Showroom about 80 miles north of Las Vegas.
The daughter of long-time Las Vegan and Nevada State Senator John Lee, Alana captured the title and didn't wait long to set her goals at the same time.
"I have been involved in a lot of big things in my life," she said, "and this one is one of them. I have lots of expectations for myself, too."
Not long ago, Alana and her father discussed the pageant and its possibilities.
"I was telling my dad how cool it would be if I won the Miss Nevada title and how I could travel around the state with him then – and look what happened."
For a pageant queen, Alana said of her childhood in the event program "I was a dork. I had a big gap between my front teeth, thick glasses with clear rims and a perm I brushed out and made puffy buns on top of my head to look like Mickey Mouse."
Now, though, Alana is looking forward to the Miss America Pageant next January at Planet Hollywood in Las Vegas. The event will be nationally televised by ABC.
"I am motivated by dreamers; people who understand their true potential in the world and never see limits or challenges as setbacks to obtaining goals," the winner added in the event program.
The owner of a broadcast journalism degree from Dixie State College in St. George, Alana utilized the platform "Improving Relations Through Effective Communication." She is an anchor on Southern Utah News (SUN) in St. George, Utah.
"This is totally awesome," said Alana's dad, John, who was a Nevada assemblyman in Nevada in 2007 before becoming a state senator. "I'm in awe of what Alana has done. She works so hard and sets lofty goals.
"She is a very driven young woman."
Jon Guy, the director of marketing and development for Goodwill of Southern Nevada, said he was amazed with the new Miss Nevada.
"If she ever decides to run for president of the United States, I would never bet against her," said Guy.
Finishing first runner-up in the Miss Nevada competition was Kellie Mills, Miss Northern Counties; while second runner-up was Miss Mesquite Elizabeth Mercado; and third runner-up was Miss Summerlin Randi Sundquist.
Fourth runner-up was Miss Lake Tahoe Diana Lynn Sweeney.
Mills's parents James and Mary Gehris were in the audience. Both are school teachers in Las Vegas.
"Indeed, I'm a very proud dad," her father beamed.
"I'm extremely proud of her," said her mother adding that a sister, Bonnie, has also participated in the Miss America program. "The results of the Miss America program have been incredible."
Mercado agreed that participation in the pageants have proven to be great learning experiences for her.
"It has been such a growing and learning experience for me," said Mercado, who has lived in Mesquite for five years and is a Virgin Valley High graduate. "The last time I had competed in the Miss Nevada stage was four years ago and since then I have transformed myself into the new me. It has completely changed my life. I was completely shy and it brought the best out of me performance wise. I was able to discover my talent as a singer which I never knew I had before competing in Miss Nevada.
"Now, I am going to pursue my career as a singing artist and I want to audition for different shows and work my way up. Hopefully, I want to be a singer in Hollywood."
Mercado also won the Miss America Community Service Award which is one of the most prestigious awards given by the Miss American Organization and was awarded by former television journalist and also former Miss New Jersey Sue Lowden, who is on the Miss America Board of Directors"
Miss Lake Tahoe representative Bailey Gumm captured the Miss Nevada's Outstanding Teen title.
"I feel so blessed,'' she said. "This is absolutely a dream-come-true for me. I can't wait to be a voice for autism which I want to talk about throughout the state. Right now, one out of 110 children has autism and the number is growing at an alarming rate."
Finishing first runner up in the Miss Outstanding Teen competition was Miss Henderson Outstanding Teen Emily Messina; while taking the second runner-up spot was Sabrina Singh, Miss Southern Counties Outstanding Teen.
Third runner up was Miss Truckee Meadows Outstanding Teen Emilie Heidenreich; while Miss Douglas County Outstanding Teen Leah Walters was fourth runner up.
Markham Miller, the president of the Miss Nevada Organization, lauded all of the contestants.
"I want to thank all of you for attending," he told the crowd. "This is the most incredible group we have ever had."
The pageant was making its second appearance at the CasaBlanca after being held for several years in Northern Nevada. The two pageants generated almost $24,000 in scholarship money in 2011.
Other events planned at the CasaBlanca Resort include the first annual Mesquite Jazz Festival July 15-17; the Junior Golden Gloves Nationals July 20-23; and The Return to Mesquite presented by BPONG.COM, a $10,000 World Series of Beer Pong Mega Satellite Event in the CasaBlanca Event Center July 29-31.
A full rundown of the events at the CasaBlanca may be found at http://www.casablancaresort.com.
###