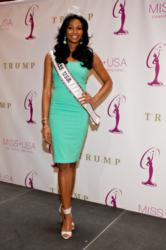 Aside from the obvious beauty and intelligence that Ms. Meriwether possesses, I am personally elated at how she has also excelled athletically during her college career.
Washington, DC (PRWEB) January 13, 2013
Two-time NCAA All American, Nana Meriwether was crowned as the newest Miss USA in a ceremony hosted by Donald Trump on Wednesday. Miss Meriwether took over the reigns as Miss USA from the former Miss USA Olivia Culpo, who recently won the title of Miss Universe in December. According to organizers of the 2013 Ambassadors Inaugural Ball, the new Miss USA will be making the ball her debut event; the theme of the event "Promoting Peace, Diplomacy & Global Unity" is in keeping with her humanitarian efforts.
The 2013 Ambassadors Inaugural Ball, presented by GrupoMex will celebrate the second inauguration of President Obama with an immensely diverse crowd of individuals from the public and private sectors - ranging from one of the most respected and longest-serving members of the U.S. Congress; Congressman John Conyers, of Michigan - to the beautiful Miss USA. The event promises to be a very exciting and entertaining evening, while also taking major strides for funding programs such as agriculture in underserved regions, clean water & sanitation for poverty-stricken global citizens and orphanages for AIDS/HIV, all focal points of Miss USA's The Meriwether Foundation.
"I am incredibly honored to be attending the Ambassadors Inaugural Ball," said Miss USA Nana Meriwether. "As the newly crowned Miss USA, I hope to use my title to raise awareness for The Meriwether Foundation, which focuses on improving the health and well-being of people living in rural villages in five countries in Southern Africa."
Ambassadors Inaugural Ball Co-Chair and Host Committee member, Dr. Tebelelo Seretse, Ambassador of the Republic of Botswana to the United States & Canada, commented that "We are very happy to have Miss USA among the honored guests to be in attendance at our inaugural day celebration. Our mission in this event is to build financial support and awareness for several deserving non-profit beneficiaries, with The Meriwether Foundation being central among them."
Honorary Consul to the Republic of Botswana, Mr. Robert Shumake [Business Chair of the Ambassadors Inaugural Ball], added "aside from the obvious beauty and intelligence that Ms. Meriwether possesses, I am personally elated at how she has also excelled athletically during her college career. As the founder of the Shumake Relays (the largest outdoor track & field event in the Midwest), I have a firm grasp of the commitment that it takes to set and reach goals; this is the foundation of the Shumake Relays - where we believe that sports can become a type of universal language for kids and adults - surpassing the boundaries of class, color or location."
Born in South Africa while her parents were doing volunteer work there, it would appear that Miss Meriwether was destined to lend her energies to humanitarian causes. The Meriwether Foundation was co-founded by her long-time humanitarian father; Dr. W. D. Meriwether, and provides programs throughout several areas of South Africa.
About Miss USA:
Nana Meriwether is an African American with strong ties to South Africa and many of its suffering denizens. During her reign, Nana will continue her work for The Meriwether Foundation as well as working with some of the official cause alliances of the Miss Universe Organization including the USO, the Same Sky Trade Initiative, Best Buddies, Gilda's Club and the National Ovarian Cancer National Alliance.
About Meriwether Foundation:
The Dr. W. D. and N. Meriwether Foundation is a 501 (c) (3) international non-profit charitable organization. It operates health, HIV/AIDS, agriculture, food security, water, sanitation and sustainable economic empowerment programs in rural and peri-urban areas of South Africa, Zimbabwe, Zambia, Malawi and Mozambique. The mission of the Meriwether Foundation is to improve health, empower communities, and alleviate poverty, with special emphasis on underserved rural and peri-urban areas.
About the 2013 Ambassadors Inaugural Ball:
The first of its kind hosted exclusively by the international Ambassadors community, this ball will be attended by members of the United States Congress, officials, cabinet members, appointees and other luminaries of politics and business.
The 2013 Ambassadors Inaugural Ball has premier sponsorship packages available. The event provides an excellent means to contribute to the worldwide humanitarian efforts being supported by the event including; human trafficking, global warming, AIDS, food security and lack of medical care.
For information about the Ambassadors Ball and sponsorship packages, contact Event Manager Elite Socialite Events, LLC at (202) 594-3151 or info(at)ambassadors-ball(dot)com.
Tickets may be purchased at http://ambassadors-ball.eventbrite.com/
Visit the Ambassadors Inaugural Ball website to learn more at http://www.ambassadorsinauguralball.com/
To secure press credentials or arrange interviews contact Trea Davenport, Director of Public Relations of 2013 Ambassadors Inaugural Ball at: treadaypr(at)gmail(dot)com or via US Press Office +1 678 327 8281.
AMB2013 was founded by a collection of international dignitaries for the specific purpose of producing the 2013 Ambassadors Inaugural Ball; the quintessential celebration of diplomacy among diverse races, religions, cultures and countries. AMB2013 promulgates peace and humanity for mankind and sets aside political views and aligning with domestic and international partners that celebrate global peace.