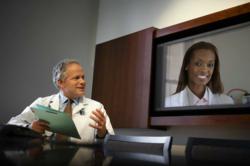 "Having worked with MIVNET for many years, I am impressed with their range of services. Videoconferencing is increasingly attractive to litigation attorneys because they can reduce travel and contain costs."
Vero Beach, FL (PRWEB) April 02, 2012
MIVNET, the world's largest and fastest-growing free directory and independent provider of videoconferencing services, today announced significant expansion of the company's reach into the legal services and digital videography domain through a major agreement with the National Network of Reporting Companies (NNRC), a one-stop shop for court reporting, legal video services and videoconferencing.
Effective immediately, all NNRC videoconferencing sites are represented in the MIVNET global directory system, certifying that each meets service standards required of all MIVNET member facilities. With the addition of NNRC's sites, MIVNET's network of affiliates now spans more than 350 national and international locations, providing a comprehensive, easily searchable and free online directory of business-class videoconferencing meeting venues available for rent by the hour.
"The agreement with NNRC continues MIVNET's momentum, significantly enhancing our ability to serve the targeted needs of the legal community," said Mark Levy, president of MIVNET. "Current customers of both MIVNET and NNRC benefit from the ability to expand the videoconferencing venues they can now connect with under the MIVNET umbrella, and advertisers now can reach a broader audience, as well."
"As the largest and oldest association of court reporting firms of its kind, NNRC has a reputation for providing a peerless service experience that is warm, personable and businesslike for our members and their clients," said Chuck Cady, NNRC president. "In choosing MIVNET, we sought a professional videoconferencing organization with the same values. With this agreement, I have every confidence that we are both building our strong reputation and opening a new chapter in NNRC's history, expanding our coverage and potential for growth in membership and revenue."
Kenneth Zais, president of Boston-based O'Brien & Levine Court Reporting Services and a former NNRC Board member added, "Having worked with MIVNET for many years, I am impressed with their range of services. Videoconferencing is increasingly attractive to litigation attorneys because they can reduce travel and contain costs."
Videoconferencing is widely used in the legal community for depositions, expert consultations, witness/trial preparation, settlement conferences, partner/client meetings and job interviews. Among the advantages of MIVNET:
● There is no cost to use the MIVNET directory.
● Cost-effective way to meet and collaborate with groups or individuals.
● MIVNET videoconference facilities are compatible with most consumer, mobile, business and corporate boardroom facilities including public and private endpoints anywhere.
● Reserve directly. Pay no commissions.
● Search videoconference locations by zip code, distance, interactive graphical map, or with advanced search criteria.
● Compare up to 7 facilities' amenities with MIVNET's "compare" feature.
● Facilities available in major cities from $99/hour.
● Freedom from hardware commitment – leverage the systems and facilities investment of established videoconferencing professionals.
● Quality of Service – reliable, high quality commercial videoconferencing without jitter or delay.
● Hands free – MIVNET providers deliver peerless service so customers can concentrate on the business of their videoconference.
For more information on MIVNET and NNRC, please visit http://www.mivnet.com/ and http://www.nnrc.com/
MEDIA CONTACTS:
Jim Crawford
Crawford Public Relations, for MIVNET
Google Voice: 571-261-8230
jcrawford(at)crawfordpr(dot)com
Mark Levy
MIVNET
(800) 4-MIVNET
772-257-3357
ml1(at)accuratevideo(dot)com