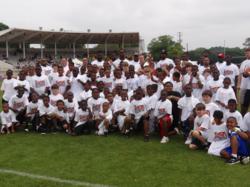 "I'm looking forward to working with boys and girls from my hometown," said Johnson. "It's always a pleasure to reach back to the community that helped raised me!"
Atlanta, GA (PRWEB) February 03, 2013
Michael Johnson, defensive end #93 for the Cincinnati Bengals, is committed to improving the lives and opportunities of school-aged children. Through his many philanthropic endeavors, Johnson has contributed not only cash, but also his time and talents. His foundation, the MJ93 Fund (http://www.mj93.org), a program that he founded to get kids involved with and enjoying team sports and activities, will soon be hosting hundreds of youth (ages 8-17) at the 4th Annual Michael Johnson Youth Football and Cheer Camp in his hometown of Selma, Alabama (on April 27th).
The annual event is an ongoing extension of Johnson's commitment to encouraging exercise of the body and mind. While he has made a career in sports, Johnson extols the value of education to children. Being one to practice what he preaches, he returns to Georgia Tech (where he played college football) in pursuit of a degree in Business Administration. This spring semester is no exception, as the 6'7", 275-pound gridiron giant is currently enrolled taking 10 of his last 18 credit hours.
"He promised when he left for the draft that he would come back and get his degree. Michael realizes that football is temporary but having that degree is his true meal ticket," said Johnson's mother Thomasene Johnson, who also serves as his manager, "Earning his degree from Georgia Tech is very important as it is considered one of the best schools in the county. Encouraging kids to get their education is one of my son's key messages and believes it is a key to being successful."
Johnson graduated top of his class from high school and earned a scholarship in football, but was eligible for an academic scholarship. He understood early on the importance of secondary education. A recently reported contribution by the MJ93 Fund was in the form of a much-needed cash infusion of over $16,000.00 - donated to the University of Cincinnati's Gen-1 Theme House (the Theme House is an off-campus residence of the university that helps freshmen students to successfully make the transition from high school to college life - providing a structured setting in which to acclimate themselves). "As part of our work to support youth in their most important periods of development, my foundation has diligently worked hand in hand with UC for the past few years," said Johnson, (who was one of the team winners of the PULSE award, making him eligible to become one of five finalists for the well-known Byron "Whizzer" White Award; which, if won, could provide $100,000.00 for Johnson's foundation).
MJ, as he is affectionately called, has dedicated substantial face time and efforts to being involved with various schools and organizations in and around Selma, Cincinnati and Atlanta where his core focuses center on both education and fitness. As an NFL Play 60 and Fuel Up to Play 60 rep, he tirelessly encourages healthy living for a generation of children that face higher rates of juvenile diabetes and heart disease than ever before. "With so many distractions tied to the Internet and video gaming, kids just aren't getting out and moving around like they once did," added Johnson. "We live in a time where parents work longer hours, so less time is spent making sure that our children are active or even eating right."
"This is the real fast-food generation. Our goal is to make it fun for more kids to participate in their choice of physical activities, as long as they're on the move."
Interested youth can get moving this spring with Johnson and his NFL team mates on Saturday, April 27, 2013.
About the 4th Annual Michael Johnson Youth Football & Cheer Camp:
The camp will take place at the Memorial Stadium (108 W. Dallas Avenue) in Selma AL, and is open to children ages 8-17. There will also be an Athletic Breakfast and fundraiser on April 26th.
To register visit: http://www.mj93.org. Early registration is encouraged, as the event is limited to 300 kids. Submit Media Inquiries to Trea Davenport 678.327.8281 or treadaypr(at)gmail(dot)com.
About Michael Johnson:
Cincinnati Bengals defensive end, Michael Johnson, is a native of Selma, Alabama. He was named the Week 11 AFC Defensive player of the week. He recently finished a stellar season with the Bengals helping his team to the playoffs with 11.5 sacks, 52 tackles and 1 interception. The Georgia Tech alum is a tireless activist for children's rights and champion for programs that support and encourage healthy eating, physical fitness and education. His foundation, the MJ93 Fund (http://www.mj93.org) counts among its support activities - $10K donated to the YMCA, hosting his 4th Annual Michael Johnson Youth Football and Cheer Camp, donating to The KENO Foundation of Atlanta, and working with AthleTECH as a pro-athlete mentor.