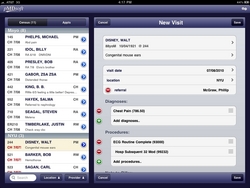 You need a great user experience to achieve 100% adoption from every physician in a medical practice.
San Francisco, CA (PRWEB) July 29, 2010
pMDsoft, Inc. announced today that it is the first company to offer a native iPad charge capture application. Mobile charge capture improves patient care and safety by giving doctors a better way to communicate with each other, and increases the productivity and revenue of medical practices by making hospital rounding and billing more efficient.
Many providers have added the iPad to their arsenal as they seek better access to information. Dr. Fred E. Huss of Suburban Podiatry Group, a highly mobile physician whose work takes him to ten different facilities, said "I love the iPad because I can do so much on it. It's become my preferred mobile device - I use it to access charts, medical records and forms on the go." Dr. Robert C Kowal of HeartPlace felt the same way, saying, "I'm glad that pMDsoft supports the iPad because I love the device - the screen is crisp and easy to read."
pMDsoft was first to market with mobile charge capture on this new device, just as it had been with the iPhone and BlackBerry in years past. Philippe d'Offay, the CEO of pMDsoft, explained that "we've learned to spot the devices that will let us raise the bar on usability. You need a great user experience to achieve 100% adoption from every physician in a medical practice, and without full adoption, you won't get the improved communication and ROI that physicians expect - typically a 10% increase in revenue from hospital rounding."
The company created an optimized charge capture solution for the iPad because of its obsession with usability. Dr. Huss explained that "pMDsoft capitalized on the big screen by showing me more patients at a time. I have upwards of 120 patients at some facilities, and thanks to the larger census view, I almost never have to search for patients by name." And Dr. Kowal thought it was "great to see my patients and the details of their encounters side by side as I'm rounding." Because pMDsoft is a native app on the iPad rather than a Web site, it works anywhere, regardless of cellular or WiFi coverage.
About pMDsoft
Headquartered in San Francisco, pMDsoft develops wireless applications that help physicians streamline and automate their practices from point-of-care through reimbursement. The company was started in 1999 to provide physicians with an effective, mobile alternative to their paper-based method for recording patient encounters. pMDsoft developed the powerful, flexible, reliable and easy-to-use mobile charge capture solution physicians were seeking. By providing real-time access to patient information anywhere, at any time via handheld devices or desktop computers, pMDsoft's medical billing program enables physicians to automate charge capture; view their hospital census and office schedules; create a centralized patient information resource for the practice and more. Through it all, pMDsoft protects patient data by adhering to the highest standards of performance, security and reliability.
Today, pMDsoft's customers include individual physicians, physician practice groups, managed care organizations, hospitals and billing companies located across the country. The company attributes its success to its unwavering commitment to developing the best solution on the market and to its superior 24/7 customer support.
###