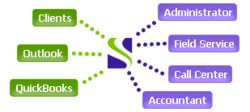 Not only is the software completely user friendly, the program is adaptable and versatile, and by far some of the best customer service I have ever encountered
Reston, VA (PRWEB) January 17, 2013
Bella Solutions, Inc., a leading mobile field service management software provider, is pleased to announce a licensing agreement with ServicePower for Bella's service management software.
Under the licensing agreement, Bella will allow ServicePower to host its own version of Bella Solutions software and will allow them to further develop it to provide a hosted, subscription-based service management application to its network of independent service providers.
Bella Solutions mobile service management software enables a service provider to efficiently manage work orders, employees, subcontractors, inventory, marketing and finance with dashboard reporting on all these activities. A client portal provides access to pending work orders and gives the ability to a client to request a work order in real time. The product is a Software-as-a-Service (SaaS) based application which can be accessed from any desktop, laptop, tablet, smartphone, or web-enabled handheld device.
John Linn, CEO of Bella Solutions, added: "This agreement will accelerate Bella Solutions growth in this very important market and demonstrates, yet again, that we are a recognized leader in software that offers service businesses comprehensive, low cost solutions that help them run their businesses more efficiently."
About Bella Solutions
Bella Solutions infuses cutting edge technology with a creative vision and a rock-solid foundation of experience, to provide a web-based solution for managing any and all field service business operations. With only a low, month-by-month subscription fee with no required long-term commitment, Bella Solutions provides a simple and flexible application for streamlining service businesses.