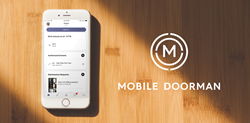 "This is a tremendously exciting time for our company," says Mobile Doorman Founder and CEO Bob Matteson.
CHICAGO (PRWEB) January 07, 2019
Mobile Doorman, the industry-leading creator of custom-branded resident apps for apartment communities across the United States, today announced that its apps now serve more than 300,000 apartment homes at the conclusion of 2018. That figure represents almost an 800 percent increase from the end of 2017 and a more than 1,500 percent jump from the conclusion of 2016.
With that expansion has come significant inroads into the apartment industry's biggest players. Mobile Doorman's client roster now includes communities managed by Greystar, Lincoln Property Co., Pinnacle, Alliance Residential and FPI Management – the five largest apartment managers in the U.S., according to the National Multifamily Housing Council's (NMHC) authoritative ranking of the 50 biggest apartment management firms.
Pegasus Residential, another company on the NMHC's list, recently committed to rolling out Mobile Doorman apps across 19,660 units within its portfolio.
"This is a tremendously exciting time for our company," says Mobile Doorman Founder and CEO Bob Matteson. "From the explosive growth of our market presence to our new team members and our additional funding, I think we'll look back at 2018 as a pivotal year in the trajectory of Mobile Doorman. I am so humbled by the results our team is producing and the enthusiasm and excitement our apps are generating for both renters and apartment operators."
The number of clients wasn't the only thing that grew for Mobile Doorman in 2018: the company also added 25 team members, representing a 400+ percent increase in headcount.
Other notable growth developments include:

The August announcement of the closure of a $2 million Series A funding round from Chicago-based Reimagined Ventures, an investment arm of the Alec Litowitz family office. The funding will be used to further build Mobile Doorman's presence in the U.S. multifamily market and further the integrations of its apps with smart home technology.
Mobile Doorman also expanded its technologically-focused partnerships throughout 2018. This includes new integrations with the popular property management system ResMan and payments platform ClickPay, as well as announcements of 2019 integrations with ButterflyMX, a cutting-edge smartphone intercom platform, and smart-home tech provider IOTAS.
Last month, the custom-app developer announced the launch of its first-ever in-house technology division, which was supported by the opening of its second office, Mobile Doorman North, in Madison, Wis.
To learn more about what Mobile Doorman can do for your apartment community in 2019, visit http://www.MobileDoorman.com.
About Mobile Doorman:
Mobile Doorman specializes in developing custom, white-label apps for apartment and condominium communities across the U.S. Our mission is to improve how residents interact with their properties with a convenient, user friendly tool that helps them live smarter while helping property owners manage better, improve retention, and boost their bottom line through nexgen technology. For more information, visit http://www.MobileDoorman.com.