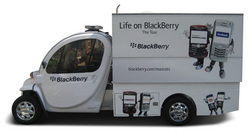 What we wanted to do was develop a street-legal, all-electric Mobile Event Marketing vehicle that sets up quickly, attracts attention, and is adaptable to just about any program. And with The Aardy, we've done exactly that - it's our clean, green, mobile event marketing machine
Philadelphia, PA (PRWEB) March 12, 2009 -
It's cool to be green, especially when you're in the business of Mobile Event Marketing.
Which is why industry specialist Aardvark Event Logistics has developed the all-electric, all-purpose mobile event marketing vehicle, which it now offers to the Event Marketing industry. Affectionately named "The Aardy™", this electric, street-legal vehicle is poised to change the way many companies think about Mobile Event Marketing.
"Essentially, our industry has always been about gas guzzling SUV's, Vans, and Tractor Trailers," said Howard Nemenz, President of Aardvark Event Logistics. "What we wanted to do was develop a street-legal, all-electric Mobile Event Marketing vehicle that sets up quickly, attracts attention, and is adaptable to just about any program. And with The Aardy, we've done exactly that - it's our clean, green, mobile event marketing machine," added Nemenz with a grin.
With sustainability becoming a key driver for marketers across the globe, the folks at Aardvark Event Logistics are way ahead of the curve. And with event marketing costs soaring, The Aardy kills two birds with one stone. "You can drive it down the road, drive right into a mall, set it up in less than a minute, and engage thousands of consumers. You save a fortune in setup labor and if the crowd moves, now you can too…in seconds," said Nemenz.
Aardvark has partnered with noted industry builder Craftsmen Industries as the official builder of The Aardy due to their extensive industry expertise. Their ability to ensure quality controls throughout all of The Aardy's systems was key to inking their partnership.
Aardvark Event Logistics both sells and rents The Aardy to anyone who wants to make a big impact without heating up the planet. Currently there are 4 models to choose from. To find out more about The Aardy, visit http://www.aardvarkel.com/aardy.
About Aardvark Event Logistics
Aardvark Event Logistics™ is the nation's leading provider of drivers for the mobile, event, tradeshow, motorsports and concert touring industries with the largest fleet of rentable equipment in the country. For Mobile Event Marketers, by Mobile Event Marketers™," Aardvark™ strives to provide its clients with the best drivers in the industry and the most diverse fleet of rentable mobile event marketing vehicles anywhere. To learn more, visit http://www.aardvarkel.com.
Contact Information:
Howard Nemenz
Aardvark Event Logistics, Inc
1979 Pioneer Road
Huntingdon Valley, PA 19006
(215) 441-0690
# # #