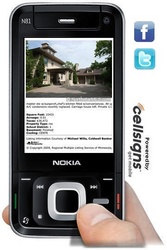 "The power of mobile search, mobile marketing, and social networks come together with the CellSigns mobile real estate service," notes David Geipel, COO of QWASI, Inc.
Philadelphia (PRWEB) November 19, 2009
CellSigns, Inc., the leading provider of mobile tools and services for real estate, announced today the addition of new social network features to its CellSigns Property Marketing and Mobile Agent solutions. CellSigns brings together two very powerful forces: mobile and social networks.
Continuing its leadership within the Real Estate Industry, CellSigns brings new ways for Home Buyers and Real Estate agents to tag and share their properties on social networks. With the addition of FaceBook and Twitter connections, home buyers can now tag a home and share it with family & friends on social network accounts. It's become vital for REALTORS and real estate agents to reach across social networks like Facebook.
According to Parenting Group's research panel of 5,000 moms, 60% of moms report having used a social network in the past 24 hours. Of that group, over 80% are online with Facebook. According to a recent eMarketer survey, "mobile social networkers" will total 56.2 million by 2013 in the United States, accounting for 45 percent of the mobile Internet user population and highlights the importance of using this media to reach Gen X and Gen Y as a means of communication.
Agents using CellSigns Property Marketing and Mobile Agent can easily extend their area of influence through mobile and social networks. The services can also distribute and syndicate their listings, automatically. This allows agents to provide greater reach for their listings and reach new buyers and sellers in the process.

Automatically distribute listing content to FaceBook or Twitter
Allows FB and Twitter friends to see full details of the listing content
Data automation available through MLS Feeds (IDX or RETS) and Direct Broker Feeds
The first client to launch with these new features is the Allen Tate Company. Allen Tate, the Carolinas' leading real estate company and the 11th largest broker in the country, is making real estate text messaging available throughout the Charlotte, Triad, Triangle and Upstate South Carolina regions. Properties with mobile texting capabilities will be identified with sign riders, indicating the unique property ID and text messaging number. The mobile texting technology is compatible with all types and brands of cell phones.
"The power of mobile search, mobile marketing, and social networks come together with the CellSigns mobile real estate service," notes David Geipel, COO of QWASI, Inc. "Mobile is not a trend or fade but a way of life in real estate. It's a ubiquitous activity that encompasses search and discovery. What we've done with our services is to tap into the strengths of mobile and social networks. Allowing home buyers, for example, to pull up to a home for sale, search via their mobile phone using SMS (text messaging) or even Mobile Web (WAP) and then share that property with their family or friends is very instinctual. It gives the buyer a chance to let others share their thoughts on that home directly with others."
Home buyers can sign up for Mobile Agent by visiting http://www.mymobileagent.com.
CellSigns has also introduced these features to its popular mobile IDX service Mobile Agent. Mobile Agent is the only mobile real estate service that allows buyers and agents to search and interact via SMS & WAP. The CellSigns real estate text messaging service and mobile search tools were awarded the "Most Innovative Technology of the Year" award in real estate from Inman News.
About CellSigns
CellSigns (http://www.cellsigns.com), a wholly-owned subsidiary of QWASI, Inc. company, is a leading mobile applications company providing interactive solutions and mobile marketing for businesses via text messaging, SMS, MMS and WAP. Supported by every major wireless carrier and working on over 99% of all cell phones, the company offers Mobile Agent real estate search, private label mobile search tools, mcommerce, SMS Chat, Text Ordering, Mobile IM (MIM) applications, customized alerting and the only interactive property marketing service for real estate. CellSigns powers over one million real estate listings, 1.5 million mobile ads and mobile alerts.
###