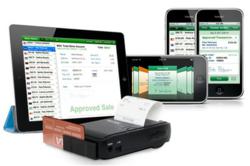 A printed receipt is still the best way to avoid card-holder pushback and to reduce chargeback fees that are usually paid by the merchant.
Fullerton, CA (PRWEB) October 03, 2011
Pocket Verifier Professional™ for iOS devices is now available with the iMerchant™; a complete payment solution that swipes credit cards and prints receipts for the iPhone®, iPad™, and iPod Touch® devices.
Advanced Merchant Solutions, Inc. (AMSI) has launched a payment solution for Apple's mobile operating system. The software, Pocket Verifier Professional, is available as a free download on the Apple App Store and is designed to work with the company's new iMerchant Card Reader and Thermal Receipt printer. Coupled together, the Pocket Verifier/iMerchant system enables any mobile business user to avoid the high cost of "card-not-present" transactions and eases the concerns of customers by allowing printed receipts. AMSI further integrates this breakthrough system into a complete solution by packaging it with a combined merchant and gateway account, with e-commerce, and no upfront costs, no term commitments, or cancellation fees.
"Our Web App has been out for a while and we've working with our existing iPhone mobile merchants to see what they wanted. Quick order taking, swiped rates, and printed receipts were at the top of the list. We took what they wanted and worked it into a great product. We gave them swiped card-present rates, the option to email or print receipts, and even the ability to print cash receipts on-the-fly. A printed receipt is still the best way to avoid card-holder pushback and to reduce chargeback fees that are usually paid by the merchant," says Dr. Blaine Leckett, the company's CTO. "We've added geo-tagging, server-side signature storage, free notes, and even a new SalesFlow™ screen for quickly looking through the sales history. We are always looking for ways to be ahead of the curve and we think our merchants will be happy."
"We have an ideal system for any business that wants to accept credit cards. Our merchants are qualified and approved upfront, which means there is no surprise '30-day-hold' on payments when they process transactions. The merchant sets their own ticket size and monthly volume, and after approval, they can count on their funds being deposited on time, every time," stated Dennis Ideue, the company's CEO.
"Also, physical security and encryption are important when dealing with payments. So we worked hard in developing iMerchant to communicate directly with Pocket Verifier Professional over a secure physical connection using the dock connector. The field-replaceable battery pack and paper for iMerchant can also be interchanged with our existing Pocket Spectrum for Android and Blackberry phones and tablets," continues Ideue. "This makes deployment in organizations with a mix of mobile devices and different operating systems easy, inexpensive, and efficient."
The iMerchant is currently shipping. Its retail package features a thermal print mechanism, 2-track magnetic stripe reader, an interchangeable battery, a quick-charge adaptor, and a leather case with integral belt clip. Pocket Verifier Professional for iOS is currently available on the App Store. For more information and further inquiries, visit: http://www.merchantanywhere.com.
About Advanced Merchant Solutions, Inc.
Advanced Merchant Solutions, Inc., commonly known as MerchantAnywhere, is a privately held corporation and has been both a leader and pioneer in the mobile transaction processing industry since 2001. Their solutions include software, hardware, and transaction processing for both traditional and mobile merchants. Advanced Merchant Solutions, Inc. is a Registered Visa/Mastercard Independent Sales Organization (ISO) for Columbus Bank and Trust, Columbus, Georgia, as well as a registered Apple, Microsoft, Palm and RIM software developer.
Press Contact:
Dennis Ideue, CEO
Advanced Merchant Solutions, Inc.
714-449-0211
http://www.merchantanywhere.com
# # #