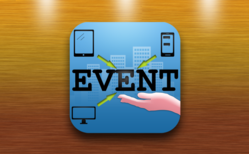 I am super-excited about this project because it brings a real solution...
McDonough, GA (PRWEB) March 19, 2013
Jon Lonon, creator of the Share That Event Android app, today announced that his mobile app and its web service counterpart, eventShare(TM), are in heated development stages and on-track for a new release forecast of late April 2013.
"I am super-excited about this project because it brings a real solution to many event marketers who want to quickly engage prospective event attendees", says Jon. The idea grew from Jon's frustration with keeping track of specific events that were of interest to his own personal network and Internet marketing efforts, while also leveraging attendance of his team to sister events closer to them in other regions of the globe. Pen-to-paper notes, and logging in to major event marketing websites, was just too cumbersome and the latter for general purposes could easily be classified as overkill! On top of that, it was sometimes downright embarrassing, and often time-consuming, to manually pass any last-minute unexpected event updates to invited guests.
Therefore, Share That Event was developed because of a need to simplify announcing events internally for staff and publicly to guests. The eventShare(TM) web service which drives the app will also offer low-cost options for businesses of all sizes to share events!
In January, Jon released his new eBook, "Whoa! What Just Happened?!" The eBook is a unique peek at the beneficial dynamics of events, and was a planned preface to the Share That Event Android App which is actually briefly discussed in the bonus chapter of the eBook. Those who request a download of the free eBook will receive early notification when the app is live for download! A simple form on the app's website facilitates this request.
Jon Lonon is a proud husband, father, son, and minister. His technology background, including over 25 years as a software developer, has served him well within his Internet Marketing and Network Marketing endeavors. You can visit Jon's new Network Marketing Technology Blog to find out more about Jon and other ways technology can help you advance your business.