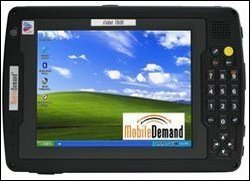 We are extremely pleased to have attained the elite Gold Certified Partner status in the Microsoft Partner Program. This allows us to clearly promote our expertise and relationship with Microsoft to our mobile computing customers of the MobileDemand xTablet rugged Tablet PC
Cedar Rapids, IA (PRWEB) August 29, 2007
MobileDemand, LC, providing rugged Tablet PC systems for a wireless world, today announced it has attained Gold Certified Partner status in the Microsoft Partner Program with a competency in OEM Hardware Solutions and a specialization in System Building, recognizing MobileDemand's expertise and impact in the technology marketplace. As a Gold Certified Partner, MobileDemand has demonstrated expertise with Microsoft technologies and proven ability to meet customers' needs. Microsoft Gold Certified Partners receive a rich set of benefits, including access, training and support, giving them a competitive advantage in the channel.
MobileDemand is a pioneer in rugged Tablet PC and handheld computing with experience in designing, manufacturing, and integrating data collection technologies into rugged devices. The xTablet® T8600 system offers breakthrough capabilities with its integrated numeric keypad, high capacity battery, integrated bar-code scanner, and integrated magnetic stripe reader. A few of MobileDemand's customers include Walt Disney World Resort parks, Anheuser-Busch, hundreds of Anheuser-Busch wholesalers nationwide, National Aeronautics and Space Administration (NASA) and Federal Emergency Management Association (FEMA). For these prominent customers, the xTablet provides a unique and real value for a variety of mobile workforces.
"We are extremely pleased to have attained the elite Gold Certified Partner status in the Microsoft Partner Program. This allows us to clearly promote our expertise and relationship with Microsoft to our mobile computing customers of the MobileDemand xTablet rugged Tablet PC," said Matt Miller, President. "The benefits provided through our Gold Certified Partner status will allow us to continue to enhance the offerings we provide for customers requiring rugged mobile computers with a full complement of mounts, vehicle cradles and accessories that make our offering a total hardware solution."
"Customers are looking for partner companies that can bridge the gap between their business demands and technology capabilities," said Allison Watson, vice president of the Worldwide Partner Sales and Marketing Group at Microsoft Corp. "They need to trust in a company that can act as an expert adviser for their long-term strategic technology plans. Microsoft Gold Certified Partners, which have certified expertise and direct training and support from Microsoft, can build a positive customer experience with our technologies. Today, Microsoft recognizes MobileDemand as a new Gold Certified Partner for demonstrating its expertise providing customer satisfaction using Microsoft products and technology."
As one of the requirements for attaining Gold Certified Partner status, MobileDemand had to declare a Microsoft Competency. Microsoft Competencies are designed to help differentiate a partner's capabilities with specific Microsoft technologies to customers looking for a particular type of solution. Each competency has a unique set of requirements and benefits, formulated to accurately represent the specific skills and services that partners bring to the technology industry.
The OEM Hardware Solutions Competency is intended for partners that build and deliver desktop or server hardware systems, and those that design and manufacture hardware devices used as computer parts, peripherals or accessories. Partners that attain the OEM Hardware Solutions Competency are recognized for their expertise in delivering high-quality hardware solutions and are provided with information and tools needed to expand their market opportunities and maintain a competitive advantage in the industry. Specializations within the competency include System Building and Device Manufacturing.
"Partners that acquire the OEM Hardware Solutions Competency have demonstrated expertise and have a track record of building high-quality hardware solutions that are designed and configured with Microsoft technologies according to customer needs and supported to ensure customer satisfaction," said Kurt Kolb, vice president of Worldwide System Builder Channel and License Compliance at Microsoft. "These partners are able to closely engage with Microsoft and have access to specialized resources to help them meet and even surpass customer expectations."
The Microsoft Partner Program was launched in October 2003 and represents Microsoft's ongoing commitment to the success of partners worldwide. The program offers a single, integrated partnering framework that recognizes partner expertise, rewards the total impact that partners have in the technology marketplace, and delivers more value to help partners' businesses be successful.
MobileDemand offers rugged Tablet PCs for a variety of vertical industries that provide a lower total cost of ownership to our customers over non-rugged computers; which is supported by actual customer experience and factual independent research. MobileDemand elevates itself by uniquely offering the combination of a total complement of mounts and accessories, flexibility we build in to our systems, superior and personalized customer service, and customer focused engineering - all to help our customers best satisfy their mobile computing needs.
The names of actual companies and products mentioned herein may be the trademarks of their respective owners.
Copyright © 2007 MobileDemand, LC.
For more information, press only:
Jeff McEachron
MobileDemand
319-363-4121
marketing @ mobiledemand.com
http://www.myruggedtabletpc.com
###