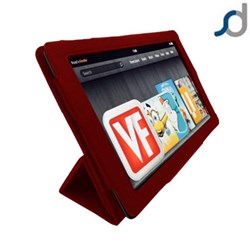 With such a great offer available on the Kindle Fire, it's sure to be a popular Christmas gift.
Birmingham, UK (PRWEB UK) 23 November 2012
Mobile Fun, the UK's leading online retailer of mobile phone and tablet accessories have sourced a wide range of Kindle Fire covers to help keep the Amazon tablet fully protected and functioning newer for longer.
With prices of the Kindle Fire being slashed as part of Black Friday deals, many people will be purchasing the cheap tablet as a Christmas present for family members; as it's the perfect solution for playing games, streaming media and reading e-books.
The Kindle Fire is great for all the family, meaning that it needs that extra layer of protection from little fingers and butterfingers moments. It's a great educational tool for the little ones, whilst also being useful for catching up on the latest news on social media. To help keep it looking fresh out of the box for longer, Mobile Fun have sourced a wide Kindle Fire cover range.
One of the Kindle Fire cover styles available is the SD Tabletwear Smart Case, which comes in a bright and bold red colour. This case fits the Kindle Fire like a glove, protecting the back and sides of the tablet from daily damage, whilst the front cover keeps the screen of the Kindle Fire clean and protected when it isn't in use.
The front cover of this Kindle Fire case is pretty clever too, as it can be folded up to create a stand for the Fire, meaning that the tablet can be docked at the perfect angle for streaming media, playing games or completing work. This allows the tablet to be used in complete comfort, whilst always remaining safe and protected from bumps and drops.
As the Smart Case is manufactured with the Kindle Fire in mind, not only does it offer a snug fit, but contains cut-outs to all the ports and features of the tablet so that it remains fully functioning at all times. This includes the Kindle Fire charger port and speakers, so the tablet doesn't need to be removed from that case to be charged.
Mobile Fun have a wide range of accessories for the Kindle Fire available now, with the tablet expected to be beneath a lot of Christmas trees this year.
-ENDS-
About Mobile Fun
Birmingham based MobileFun.co.uk is the UK's leading internet retailer for "everything first"; offering a range of mobile phones, mobile phone accessories and tablet accessories.
Mobile Fun has offices in the UK, USA, Spain, Germany and France and delivers products to over 50 countries worldwide.
Mobile Fun were recently named the 'Best Accessory Retailer' 2012 at the What Mobile Awards and won the title of Online Retailer of the Year at the Mobile News Awards in 2011 and 2012.