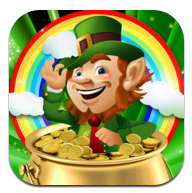 Given our recent overhaul to a new talent team, it just doesn't make sense to keep the name Leapin' Leprechaun.
Duluth, GA (PRWEB) May 30, 2012
In a shocking move, Mobile Magnus, the developer of the widely popular Leapin' Leprechaun, has decided to shift its focus away from that legacy iPhone/iPad game. Once the company has implemented an update that will fix all existing reported bugs, it will concentrate its efforts in a different direction, despite Leapin' Leprechaun's success. Instead, Mobile Magnus will now throw all its energies into making a newly named variation of the game more addictive.
"Given our recent overhaul to a new talent team, it just doesn't make sense to keep the name Leapin' Leprechaun," explains Mobile Magnus spokesperson William McCarthy. "Unfortunately, with our previous developers, which we recently fired, we had limited ability to make the game the way we wanted it. Those individuals simply lacked the creative juices to take Leapin' Leprechaun to the rockstar level we envisioned."
All of that changed with the emplacement of the new development team, which is being spearheaded by Hollywood storytelling guru Michael Hauge. "The new talent we've brought in rocks," McCarthy continues. "They have the ability to make this game a thousand times better than the original. We have absolutely no doubt this new game will be a hit … and a grand slam for the company." And so to eliminate any preconceived notions attached to Leapin' Leprechaun, Mobile Magnus has decided to simply abandon the brand.
This move is a virtually unprecedented one in the gaming community. In the past, games have been dropped from the Apple App Store for various other reasons. For example, the Duck Hunt iPhone game was pulled after Nintendo alleged copyright infringement. In a similar move, Electronic Arts also temporarily pulled The Simpsons: Tapped Out "after an onslaught of complaints by users that they were unable to connect to the server for multiplayer gaming," Macworld reported earlier this year. But unlike Mobile Magnus's decision to abandon Leapin' Leprechaun, EA fully intended to return the game to the App Store once all the kinks were worked out.
Mobile Magnus has no such intentions. The company is simply debugging Leapin' Leprechaun and then moving on to bigger and better things. Its focus will now be on making the new leprechaun game not only tricky but downright addictive. "Paddy the leprechaun will still play an integral part," McCarthy assures fans, "but we'll be adding new game play and a new revenue model. Most importantly, it's no longer going to be about the fun and cuteness Leapin' Leprechaun was labeled with. We'll be full-out concentrating on making the new game even more addicting to play."
To learn more about Mobile Magnus's rockstar team of game developers who plan to take Paddy the leprechaun to a whole new level, or for more information on the legacy game that started it all, check out Leapin' Leprechaun on iTunes at http://itunes.apple.com/us/app/leapin-leprechaun/id521644028?mt=8.