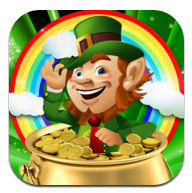 In this latest incarnation, Paddy gets all-out pissed when he discovers the banshees have stolen his gold
Duluth, GA (PRWEB) May 25, 2012
Mobile Magnus, the developer of the widely popular iPhone/iPad gaming app Leapin' Leprechaun, has a brand new game in development. When it is released, the new Apple gaming app, Paddy Run, will feature the same lead leprechaun character fans have come to know and love but will incorporate more exciting banshee-chase scenes and breathtaking Irish scenery.
The chase aspect found in Paddy Run is a proven success formula. When Angry Birds Rio, a spinoff of the fastest-growing mobile game of all time, released its updated version 1.3.0, it featured a new episode called Airfield Chase that consisted of 15 new levels. Now, following a similar strategy, Mobile Magnus is maintaining its popular Paddy the Leprechaun character and spinning him off into the chase-sequence Paddy Run app.
A legacy game of Mobile Magnus's bestselling gaming application, Leapin' Leprechaun, Paddy Run isn't the ordinary chase game, however. It's got an Irish twist built in. Leapin' Leprechaun's legions of fans will find in Paddy Run all the smack-talking personality they came to love in Paddy. Indeed, he'll once again steal the scene in the starring role, but this time around, thwarted by a band of crazed banshees, he'll assume even more of a spitfire attitude.
"In this latest incarnation, Paddy gets all-out pissed when he discovers the banshees have stolen his gold," explains Mobile Magnus's lead developer William McCarthy. Banshees come from Irish mythology, where they are feminine spirits. Often depicted as fairies, according to legend they are omens of death that begin to wail whenever someone is about to die; hence the popular American connotation of 'screaming banshees.'
"In Paddy Run, Paddy wants his gold back something fierce, but his foes are not about to give it up without a fight," McCarthy relates. "iPhone and iPad gamers will delight over the scenery as Paddy chases the banshees through an Irish forest and collects the gold they drop while he's in hot pursuit."
Collecting these golden coins is key to a high Paddy Run score. "The more gold you get, the more points you rack up." But it's the banshees' trickery along the way that will make Paddy Run as irresistible as its predecessor, Leapin' Leprechaun. Paddy will face numerous dangerous traps along the way that players must help him avoid. As he eludes these snares, he'll let spew the feisty back talk that helped Leapin' Leprechaun leap into the iTunes App Store's Top 10 list.
To learn more about Mobile Magnus, the developer of the soon-to-be-released Paddy Run legacy game, or for more information on the bestselling game that inspired the spinoff, check out Leapin' Leprechaun on the web at http://leapinleprechaun.com/#.