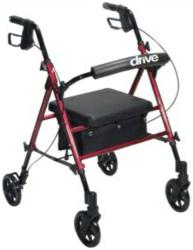 If I was using a mobility aid, these are the things I would have wanted to know in advance
Fulton, MD (PRWEB) March 19, 2013
Cruises are a popular vacation choice among the elderly. They provide warm weather, leisurely activities, and a chance to travel stress-free. Because of this many cruise ships are already surprisingly well equipped to meet the needs of those with limited mobility, offering hallway hand rails, plenty of elevators, spacious restrooms, raised toilet seats and more.
After going on a cruise herself, JustWalkers.com Marketing Director Chelsea Wardach wrote a tip sheet on Using Your Mobility Aid on a Cruise. "I was surprised how accessible and mobility-friendly the ship was," she said. "But if I was using a mobility aid, these are the things I would have wanted to know in advance."
According to the tip sheet, cruise dining rooms are often tight, requiring patrons to park their rollator, walker, or scooter outside the main doors. To avoid confusing someone else's mobility aid for your own, Wardach recommends vacationers distinguish their mobility aid through decoration or perhaps a distinct accessory such as a walker bag.
The tip sheet also recommends that those who use power scooters remember to charge the battery every night—something that's easy to forget when on vacation. Another thing to take into account is the long lines when getting on or off the boat at the various destinations. A seat cane can help users walk or rest depending on how slow the line is.
About JustWalkers.com
Just Walkers provides premium walking aids throughout the United States for people of all ages looking for the best mobility products at the lowest price. They understand the importance of choosing the perfect mobility device to fit your needs. With this in mind, they offer only the best products, parts, and accessories including detailed information about each product and numerous user reviews to help you with your decision. They are proud to serve those who seek information and assistance in determining which walking aid works best for them. With a wide assortment of walking aids at affordable prices, JustWalkers.com is determined to make your shopping experience worthwhile.