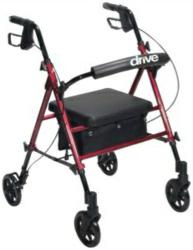 Rollators are our most popular mobility device
Fulton, MD (PRWEB) March 05, 2013
Since their invention in Sweden in 1978, rollators (also known as rolling walkers) have grown in popularity across Europe and are now catching on in the United States. Though they don't provide 100% of the stability that a traditional walker does, rollators allow users to move around quicker and more easily so they can keep an active lifestyle. Plus, many rollators include a seat for resting should the user tire during a long outing.
"Rollators are our most popular mobility device," said Bryan Mercer, a licensed pharmacist for over 30 years. "But our top-selling products are the accessories. Our goal is to sell a higher percentage of rollators which is why we launched the sale."
The sale includes Just Walkers' most popular 4 wheel rollator, the Drive Adjustable Seat Height Rollator, and their most popular 3 wheel rollator, the Drive Deluxe 3 Wheel Aluminum Rollator. Both are now more than $35 below the suggested retail price. Plus, all rollators on JustWalkers.com include free shipping.
For those deciding between a 3 or 4 wheel rollator, Mercer had this to say—"3 wheel rollators are a bit narrower and have a tighter turning radius. So if your home has small hallways or a small bathroom, this may be the better option for you. They also tend to be lighter and fold easily, so they're great for travel. 4 wheel rollators, however, provide more stability and have a rest seat if you get tired. They also have wider height ranges and a higher weight capacity, so this may be the best option for larger users."
About JustWalkers.com
Just Walkers provides premium walking aids throughout the United States for people of all ages looking for the best mobility products at the lowest price. They understand the importance of choosing the perfect mobility device to fit your needs. With this in mind, they offer only the best products, parts, and accessories including detailed information about each product and numerous user reviews to help you with your decision. They are proud to serve those who seek information and assistance in determining which walking aid works best for them. With a wide assortment of walking aids at affordable prices, JustWalkers.com is determined to make your shopping experience worthwhile.