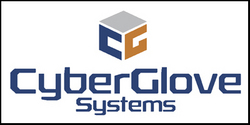 We designed and built the new glove based on the feedback we received from our motion capture customers and partners
San Jose, CA (Vocus) August 9, 2010
CyberGlove Systems revealed its new data glove product, the MoCap Glove, at this past SIGGRAPH event that was held in Los Angeles, CA, from July 27-29. The glove was received exceptionally well by industry professionals that had the chance to experience the new product at the show, and was even touted as setting the standard for hand data motion capture.
"We designed and built the new glove based on the feedback we received from our motion capture customers and partners" says Faisal Yazadi, CEO of CyberGlove Systems. "We realized that the motion capture market was an area we wanted to grow in, and when CyberGlove Systems was in a position to work on our next generation product, we approached the motion capture industry and asked them exactly what they wanted for such a device. What we have here is the perfect hand capture solution for mocap studios and systems."
Other features include:

Onboard Portable Data Storage
Jam Synch
New Compact Housing Design and Arm Band
12-bit A/D Conversion
Sensor Mount Option
Active Palm Arch Sensor
Backwards Compatibility
Enhanced Command Set
The MoCap Glove officially ships by the end of Q3 this year. CyberGlove Systems is taking pre-orders now.
For more information, contact Faisal Yazadi, CEO of CyberGlove Systems, at fyazadi(at)cyberglovesystems(dot)com.
CyberGlove Systems is the worldwide leader in data glove technology and offers the most sophisticated hand-centric motion capture solutions in the marketplace. CyberGlove Systems' products include four different data glove solutions (CyberGlove®, CyberTouch®, CyberGrasp® and CyberForce®) and its VirtualHand Software Development Kit (SDK). Its products allow users to capture detailed finger, hand, and arm movement in virtual reality, allowing users to interact with digital objects in virtual reality.
CyberGlove Systems technology benefits customers by allowing them to more quickly prototype and animate in virtual reality thereby saving them both time and money. Furthermore, CGS is the only data glove solution offering both kinesthetic force and vibrotactile feedback. This haptic technology benefits customers by simulating realistic physical forces such as gravity and touch for industrial engineering, military, and academic research applications. CGS customers include Fortune 500/Global 500 corporations, government agencies, and universities in the U.S., Europe, Asia, Middle East and South America.
Established in 1990, the CyberGlove® Systems family of products remains the most trusted and widely used data glove solution today with the very best customer support.
###