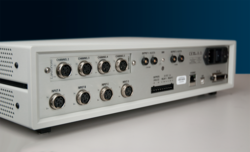 It is a really cost effective way to add more channels to monitor additional critical points in your system.
Columbus, OH (PRWEB) March 14, 2013
Lake Shore is now taking orders for immediate shipment for a new 4-channel option card for its Model 336 and Model 350 temperature controllers. These best-selling models are used in low-temperature physics research in university and commercial labs around the world. The new, inexpensive card increases the utility of the Model 336 and Model 350 controllers by doubling the number of inputs.
The Model 3062 card adds four additional input channels for cryogenic temperature sensors that can be used for monitoring or control. The scanner option channels can be configured for diode, negative temperature coefficient resistor, or positive temperature coefficient resistor sensors.
"This option was developed to meet the needs of existing owners of Lake Shore's temperature controllers," says David Plaga, Lake Shore instruments engineering manager. "It is a really cost effective way to add more channels to monitor additional critical points in your system."
The new Model 3062 scanner card can easily be installed in the field, so there is no need to send the controller back for upgrade. The scanner card is supported by Model 336 firmware version 2.3 and later and Model 350 firmware version 1.1 and later. To update the firmware on either Model 336 or Model 350, please visit http://www.lakeshore.com/products/pages/firmwareupdater.aspx to download the free Lake Shore Firmware Updater software and most up-to-date instrument firmware.
Customers can learn more by contacting the technical sales team at info(at)lakeshore(dot)com.
About Lake Shore Cryotronics, Inc.
Supporting advanced research since 1968, Lake Shore (http://www.lakeshore.com) is a leading innovator in measurement and control solutions for materials characterization under extreme temperature and magnetic field conditions. High-performance product solutions from Lake Shore include cryogenic temperature sensors and instrumentation, magnetic test and measurement systems, probe stations, and precision materials characterizations systems that explore the electronic and magnetic properties of next-generation materials. Lake Shore serves an international base of research customers at leading university, government, aerospace, and commercial research institutions and is supported by a global network of sales and service facilities.