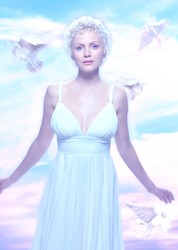 I knew, from a very young age, that I was born to entertain
West Hollywood, CA (PRWEB) December 9, 2008
Czech-born model and actress Yaana's debut record ''I Believe in Love'' is set for release in early 2009. Famous for appearances in Bollywood films and for modeling stints with internationally recognized names like Calvin Klein and Victoria's Secret, with ''I Believe in Love,'' Yaana showcases lyrical and vocal skills she has thus far kept secret.
"I knew, from a very young age, that I was born to entertain," Yaana says. "I have always been drawn to the arts and was lucky to have the natural talent to succeed in acting and modeling. Now, with my music, I'm looking forward to introducing myself to a U.S. audience and sharing another creative side that people have not seen yet."
Yaana's first single from her new album is the enchantingly beautiful ''Am I Fallin,'' available online. Her voice is warm and alluring, her music deep, inspiring and spiritual. "Am I Fallin" is currently available on iTunes and Amazon.com. A preview of the single as well as other songs from the record can be found on Yaana's MySpace page.
Yanna manages to intrigue the listener immediately. Her indulgence on the subject of love is genuine and as refreshing as a breath of fresh air.
Yaana began her career as a model, and has appeared on numerous magazine covers, including Lakme, ELLE, Cosmopolitan and Femina, and has also modeled for the premier Kingfisher's calendar. Yaana has performed dance numbers in three films, including her big screen debut in the Bollywood movie "Dum" for the song "Babuji."
Widely popular, Yaana was slated to perform as an opening act to music heavyweights including Will.i.am and Bon Jovi at Live Earth India this past Sunday, before it was canceled due to the terror attacks in Mumbai.
"I am very saddened by news of the recent attacks in Mumbai," Yaana says. "My thoughts and prayers are with the families of the victims."
For more information about the multi-talented model/actress Yaana or her forthcoming debut record, ''I Believe in Love,'' visit http://www.YaanasWorld.com.
Media Contact:
R. Santiago
BillionaireBossman @ yahoo.com
(310) 855-2715
###