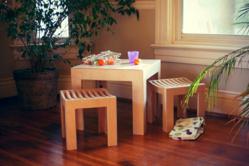 The Cube Set is kids approved
Louisville, KY (PRWEB) November 01, 2012
Sodura designs eco-friendly, modern kids furniture at their facility in Louisville, KY. They have just come out with a new kid's table and chair set called the Cube collection. The cube Set was inspired by the cube, which of course is where it gets its name.
The Cube Table is, just as it it's name suggests, shaped like a cube, with a square top and sides. It is made for all kinds of kid projects like coloring, having tea parties, eating snacks, and just gathering. The Cube Stools make a nice compliment to the table with an added design element. The seats have little slats with a curve to support little bodies.
The Cube Set is also kid approved. "Our kid's loved it within minutes of setting it up. They filled it up with all of their little goodies and books and read and played." says Carmen Scyphers, who is one of the co-founders of Sodura.
Sodura was started in 2011 by two parents who wanted something different. Sodura focuses on modern designs to fit in any environment, using eco-friendly materials and doing it all right here in the USA.