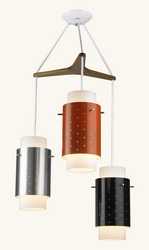 Designers, architects and homeowners alike tell us they love its simplicity, fun colors, sleek shape, detailed perforations and the nostalgia it evokes.
Portland, OR (PRWEB) March 31, 2009
Rejuvenation, America's largest manufacturer of classic lighting and hardware, announced today its latest Mid-Century Modern fixture. The Corona provides a fun, yet stylish light, perfect for either the modern enthusiast looking to add a splash of color, or the homeowner who prefers to mix-and-match different styles to create a more eclectic space.
Design Inspiration from the Stylish '50s
Design inspiration for the Corona came from three unique sources: an original 1958 EJS catalog, an original fixture, and the vivid color palate of the 1956 Thunderbird. The result? A historically accurate light offered in eight fun and funky colors, such as Neptune Blue and Solar Yellow, that lets homeowners add a punch of color and sleek style to any space.
"The Corona reflects pure modernism boiled down to everyday perfection; it's simple yet loaded with intricate design," states Tim Wetzel, Rejuvenation's lead industrial designer. "Designers, architects and homeowners alike tell us they love its simplicity, fun colors, sleek shape, detailed perforations and the nostalgia it evokes."
About the Corona Pendant
Made from thin-walled aluminum, the Corona pendant features a cylinder-in-a-cylinder design, starlight pinholes for a space-like effect, eight color options, and a traditional white cord. Artfully crafted, the Corona demonstrates Rejuvenation's commitment to sustainability by sourcing locally and designing each fixture for energy efficient GU24 and compact fluorescent (CFL) compatibility. The eight color options include: Neptune Blue, Flare Orange, Aurora Green, Solar Yellow, Brushed Aluminum, Bronzetone, Black and White. The Corona is available for $199.
About the Corona Tri Option:
The three light Corona Tri configuration uses a FSC-certified mahogany wood spreader that holds three pendants in a stepped configuration; ideal for hanging over a table or in an entryway where greater visual impact is needed.
With a touch of Scandinavian design reminiscent of the 1950s, Rejuvenation worked with a local craftsman to build a wood tri-spreader. The new Corona, along with the Orbis, Cerise, and Aeros fixtures, are all available with the wood spreader option allowing for the three pendant configuration. The Corona Tri encourages customers to mix-and-match colors allowing for over 4,000 different color combinations. To help customers determine the best color mix for their personal space, Rejuvenation created an interactive online tool to view different color combinations first-hand, in a room setting. Visit http://www.rejuvenation.com/corona. The Corona Tri is available for $699.
About Rejuvenation
Rejuvenation was founded in 1977 with a passion for old houses and buildings. Today, it is America's largest manufacturer and leading direct marketer of classic American lighting and house parts. Inspired by history, period-authenticity and customer creativity, Rejuvenation's diverse line spans the 1870s to 1960s. Collections include: Early Eclectic, Period Basics, Historic Revivals, Arts & Crafts, Colonial Revival, and Modern America. Homeowners can stay true to their home's era, and also have the flexibility to mix-and-match styles to create more personalized and eclectic environments.
The company donates ten percent of its after-tax profits to non-profit organizations dedicated to environmental conservation, historic preservation, the arts, and equal-access housing. Products are sold through the company's catalog, retail stores in Portland, Ore. and Seattle, Wash, and websites http://www.rejuvenation.com and http://www.satellitemodern.com.
###