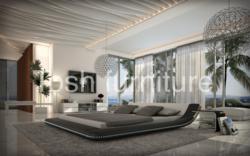 Chic modern design
Los Angeles, CA (PRWEB) March 19, 2013
DA Stores announces a new line of modern bedroom furnishings from Tosh Furniture. With a focus on the latest trends, this eclectic home furnishings maker raises the bar yet again.
It is truly about maximizing one's living space without compromising the style and beauty today's home furnishings manufacturers offer. The modern platform beds ensure comfort while the eco-friendly leathers allow you to rest easy. Colors are back to the basics, but with elegance and sophistication, which bodes well for those who personalize their homes with their own unique personalities and styling choices.
This season, it's all about streamlining the looks of our homes without taking away the functionality we've come to expect in our choices. Designing each room in our home should never be overwhelming or feel as though it's a risk. It should be a natural extension of who we are; a place where comfort, beauty and quality all co-exist.
There's also a versatility in these designs that's often lacking in other manufacturer's offerings. Further, consumers can create an entire room around one piece or they can custom design their rooms using choices from different collections; each is designed to stand alone as a beautiful addition or blend seamlessly as part of an entire bedroom presentation.
The detailing efforts are carefully created to enhance the look of the furniture without overwhelming it. The stitching found in many of the pieces is purposeful, smart and subtle. Each decision is carefully made so as not to limit the accenting options, but rather, add to them.
This latest line of Tosh Furniture modern bedroom collections was carefully chosen with today's contemporary consumer in mind. There's something for everyone. You can view the entire collection at modernfurniturewarehouse.com