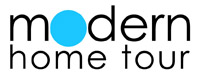 These are two very unique cities, with different but definite threads of Modernism running through them.
Austin, TX (PRWEB) June 21, 2012
During the coming hot and humid dog days of summer at the end of July, residents of Portland, Oregon and Philadelphia have a fun family event to look forward to: Modern Home Tours is coming to town.
On Saturday, July 21, Modern Home Tours will visit The City of Roses; the following Saturday, July 28, Modern Home Tours travels to the other end of the country and stops in The City of Brotherly Love.
These self-guided driving tours will feature six to ten architecturally progressive and contemporary homes in the Portland and Philadelphia areas that exemplify modern living. See first hand how homes in these two architecturally diverse cities incorporate the principles of Modernist thinking—clean lines, simple volumes, connections between inside and out, and a lack of clutter and decoration—with cutting edge building science and sustainable techniques, such as recycled materials, rainwater collection systems, and both passive and active methods to heat, cool, and ventilate. It is craft, science, and talent all coming together to create a dwelling that completely fits a modern lifestyle.
Ingrid Spencer, former managing editor and current contributing editor for Architectural Record magazine in New York City, is curating and selecting the homes for the 2012 Portland and Philadelphia Modern Home Tours.
"These are two very unique cities, with different but definite threads of Modernism running through them," says Spencer. "Portland has long been a hub for Modernist residential style and is now seeing a fresh crop of forward-thinking, sustainably aware architects and enthusiasts renovate those mid century houses with care, while taking the Modernist ideals from the past and evolving them with their own creative and inspired ideas.
"Philadelphia is also a place where Modernism has thrived since the middle of the 20th century," says Spencer. "Talented and pro-active architects are now in the process of redefining the city's residential neighborhoods, working collaboratively and creatively to overcome problems of blight and the regeneration of industrial areas."
Participating homes will open their doors for viewing from 11:00 AM – 5:00 PM on Saturday, July 21, in Portland, Oregon and on the following Saturday, July 28, in Philadelphia. Tickets are $25 in advance; $30 on the days of the tours, available at designated locations. Partial proceeds of the tour will benefit a local non-profit (to be announced). The 2012 Philadelphia Modern Home Tour is being presented by Haiku Fans.
For details, a current list of homes, and all ticket information, please visit http://portland.modernhometours.com and http://philadelphia.modernhometours.com
About Modern Home Tours, LLC: Based in Austin, Texas, Modern Home Tours, LLC was founded by partners Matt Swinney & James Leasure to introduce Modern architecture and living to people across the nation. Through fun and informative tours in dozens of cities across the USA and Canada, we invite people into some of the most exciting examples of Modern architecture and design in the nation. With carefully selected architects, neighborhoods and architecture, our home tours are unlike anything you've ever seen. Not only will you learn about the cutting edge of home design while on our tours, but you might even get an idea or two for your next home project!