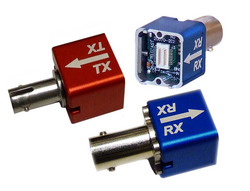 The TeleCube was the perfect match to our requirements, backed by Telecast's track record of providing comprehensive systems in use worldwide by the most prominent broadcast networks and TV stations for high-profile live events.
Worcester, MA (PRWEB) April 15, 2010
Belden (NYSE: BDC) — Telecast Fiber Systems today announced that its new, patent-pending TeleCube™ family of 3G transmitter and receiver modules will make its North American debut at the 2010 NAB Show. Developed specifically for OEM applications, the TeleCube system offers broadcasters a highly flexible, cost-effective I/O solution for distribution of HD/SDI signals via fiber optics as well as copper cable.
One of the first developers to launch a product featuring the TeleCube is Marshall Electronics, with the world's first HD monitors offering direct fiber optic video input. Marshall's new Modular Design (MD) series of high-end broadcast monitors features two receptacles which can be equipped with TeleCube fiber optic (ST) or coax (BNC) transmitters and receivers. Using the TeleCubes, the rack-mountable monitors can be configured with copper or fiber optic video inputs and loop-throughs that can be quickly and easily interchanged in the field based on evolving needs and requirements, eliminating the need to upgrade or replace equipment when a different input or application is required.
"With Telecast Fiber Systems' TeleCube modules, our new MD Series is a truly future-proof solution for multimonitor rack-mount installations, providing complete flexibility and reassurance — as well as high-quality long-distance video display deployment — for live broadcasting and sports production," said Nathan Mordukhay, vice president of sales and marketing for Marshall Electronics. "The TeleCube was the perfect match to our requirements, backed by Telecast's track record of providing comprehensive systems in use worldwide by the most prominent broadcast networks and TV stations for high-profile live events."
TeleCube technology will help manufacturers lower their engineering design costs and improve time-to-market for broadcast video technology, because each tiny TeleCube module contains all of the lasers, detectors, EQ, and state-of-the-art line drivers or receivers needed in a compact, integrated package. This allows a single I/O port to be easily and instantly configured as an input or output for either fiber or copper connectivity. The simple TeleCube interface requires just a few square inches of space and a few pennies worth of parts, and gives instant 3-Gbps optical or electric input or output capabilities to any video device, including HD monitors and displays, switchers and routers, cameras, modular DAs, or any other new digital video device. Plus, the TeleCubes are highly serviceable and facilitate easy field repairs and upgrades by end users.
TeleCube modules resemble common 75-ohm BNC connectors and can be easily plugged directly into the PCB using the special mini-pin connector. No soldering is necessary, and the device may be disconnected easily and replaced with one having a different function.
"Marshall Electronics' integration of the TeleCube modules into its world-class MD Series of broadcast high-definition monitors is exactly the type of application for which the TeleCube was designed — a game-changing product that illustrates how fiber can deliver unprecedented flexibility to broadcast and display products," said Richard Cerny, vice president and COO of Telecast Fiber Systems. "Marshall has recognized the TeleCube's true potential for high-quality transport of 3-Gbps signals over copper or fiber, with the industry's most scalable and flexible input and output configurations."
The TeleCube modules, as well as the Marshall Electronics MD Series monitors in which they are embedded, will be demonstrated at the 2010 NAB Show at both the Telecast Fiber Systems booth, C8925, as well as at the Marshall Electronics booth, C8931. More information about fiber optic solutions from Telecast Fiber Systems is available online at http://www.telecast-fiber.com.
About Marshall Electronics
Marshall Electronics continues to gain recognition as the leading manufacturer of LCD rack-mountable monitors in the world. Marshall's product line has grown to meet the demands of broadcast, multimedia, video, film, and news professionals worldwide. The company remains dedicated to providing the highest quality products and service to customers. For more information on Marshall Electronics and its various divisions, please visit http://www.marshall-usa.com.
About Telecast Fiber Systems, Inc.
Telecast Fiber Systems, Inc. is a leader in portable and fixed fiber optic systems for television broadcast production. The company's video, audio, and communications systems are used worldwide by TV networks, teleproduction companies, sports venues, and various private, educational, and government and military organizations to extend range, simplify cabling, and reduce labor costs and set-up time. Telecast systems accommodate all television production signals, including NTSC/PAL video, SDI and HD/SDI video, analog and AES/EBU audio, HD and triax camera interfaces, and intercom and data signals. Telecast Fiber Systems is a division of Belden (NYSE:BDC), a leader in comprehensive signal transmission solutions for fiber, cable, wireless signal, and industrial networking applications. More information can be found at http://www.telecast-fiber.com.
###