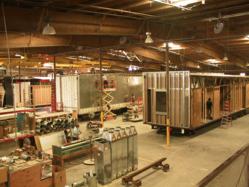 Hico ISD is facing the same predicament that many school districts are in, and they have determined that using modular buildings is the most practical and flexible approach to dealing with their facility needs
Mansfield, TX (PRWEB) March 26, 2013
Commercial modular building firm Ramtech Building Systems of Mansfield, TX has announced that the company has secured a contract for the design, manufacture, and construction of a new eight-classroom modular building and two portable classrooms for the Hico Independent School District in Hico, TX. Part of a district wide facility consolidation program, the multiple classroom building will be installed on the parking lot at the current junior high school location and will accommodate pre-kindergarten and elementary school students. To match the existing architecture, the modular school building will utilize a lightstone R-panel exterior with red trim, as well as a red metal roof. The interior will incorporate vinyl covered gypsum on the walls and vinyl composition tile flooring. The District will contract separately for bringing the utilities to the building, while Ramtech will be responsible for providing rough-ins for all of the data wiring. The building will also utilize REDD Team by Sapa's aluminum access steps, ramp and landing system. The portable classrooms will be leased from Ramtech's pre-owned building inventory for a period of 24 months and will be positioned near the driveway entrance of the District's high school. To streamline the purchasing process, all three of the modular buildings have been procured through the Texas Association of School Board's BuyBoard Purchasing Cooperative. Manufacturing of the modular buildings began this week with installation scheduled to start on April 8. Ramtech expects to have the buildings completed and ready for occupancy prior to May 1.
The Hico ISD is located in Hamilton County near the northern top of the scenic Hill Country region in central Texas. With a population slightly under 1,500 people, Hico ISD has recently experienced a slow but steady reduction in their school age population. This has forced the District into looking at ways they can best serve their students while at the same time reduce costs through consolidating their existing facilities. According to Gary White, Ramtech's vice-president of sales and estimating, "Hico ISD is facing the same predicament that many school districts are in, and they have determined that using modular buildings is the most practical and flexible approach to dealing with their facility needs." The new multiple classroom building will accommodate students from an elementary school that the School District intends to close at the end of the current school year.
About Ramtech Building Systems
Since 1982 Ramtech Building Systems has been providing innovative modular construction for government agencies, healthcare providers, Fortune 500 companies, and educational institutions throughout the Southern United States. As a design-build construction company, Ramtech offers full in-house design, a manufacturer direct product, and complete site construction services all within a single-source solution. The Hico ISD project will be designed and manufactured at Ramtech's Mansfield, TX headquarters, part of a 20-acre development located in the southern part of the Dallas-Fort Worth Metroplex. Structured as a vertically integrated design-build construction company, Ramtech provides space planning, design services, manufacturing, site construction and finish-out on every project they produce. The company maintains a consistent workforce of production workers and supervisory personnel with an average of 13 years experience, many with tenures over 20 years. This experience, coupled with Ramtech's approach to modular manufacturing and construction, allows for greater control at each step in the building process resulting in significant time and money savings for their clients. By emphasizing a value engineering approach, Ramtech has successfully completed over 3,000 diverse projects of all sizes. For more information, visit the company's website at ramtechmodular.com.