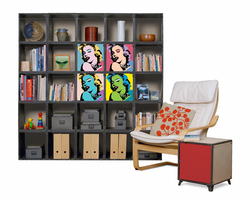 Foxboro, MA (PRWEB) January 13, 2011
Yube is a new personalized furniture system featuring modular cubes that easily assemble into virtually any furniture design. Consumers can configure, build and decorate a layout to suit their personal taste using Yube's flexible building-block system to create tables, desks, shelves, room-dividers and any piece the user can devise.
The European-styled Yube modules are 13-inch cubes made exclusively of recyclable and biodegradable materials. The modules snap together easily and lock rigidly when the back panel is slid into place. This unique furniture system can then be personalized using Yube's wide range of fun and funky accessories - doors, feet, shelves and drawers.
Yube was previewed at the 2010 International Home and Housewares Show where it was one of 26 new products awarded the Design Defined designation; the Yube was recognized for "demonstrating a commitment to design and innovation as a strategic competitive advantage in the marketplace." Errol Drew, co-founder and CEO of Yube, says, "The judges were amazed how easily and effectively Yube could be configured to match individual lifestyle needs. Judges found it easy to visualize a Yube system in their own living room, garage or office."
Yube president Jeff Greenstein believes Yube will be especially popular with first-time homebuyers, young professionals, college graduates and anyone who seeks flexible but stylish furniture. "We think Yube is like Lego for adults," he says. "Yube is fashion-conscious, environmentally friendly and really fun."
Using the System

Yube cubes can be stacked horizontally and vertically in any configuration, including, back-to-back, side-by-side and top-to-bottom.
Yube can be decorated with color and images. Panels can be stenciled or painted and an online customizer application allows consumers to upload any image and create a unique door.
New Yubes can be purchased and added to existing structures making Yube endlessly variable and expandable.
Yube and the Environment
The Yube is ecologically friendly. Panels are made using reconstituted sugar cane waste fibers. The frames are made of 'Woodlite', a moldable thermoplastic mixed with fiber made from bamboo and timber waste material.
How to Order
Yube is available at yubecube.com. Yube cubes are priced starting at $29.50 each. Accessories, including doors, feet, shelves and drawers range from $9.75--$28.75. To learn more click here to see quick and easy Yube assembly video.
About Yube
Yube co-founders Chairman Errol Drew and President Jeff Greenstein have been designing home organization products to meet both the fashion tastes and functional needs of consumers for the "The Art of Storage" brand. Frustrated with the lack of stylish yet affordable modular furniture, Drew and Greenstein set out to design a chic furniture system that allows consumers to create, decorate and adapt furniture to specific needs. In 2009, Yube was established to design high-quality home décor that is trendy yet affordable. The company is headquartered in Boston. For more information visit yubecube.com.
###