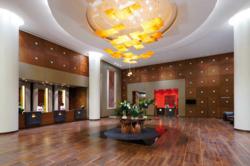 Accra is becoming the economic hub of the West African region, which offers such rich and diverse natural and economic potential.
Accra, Ghana (PRWEB UK) 7 November 2011
The hotel blends every aspect of 21st century excellence alongside original artwork from contemporary Ghanaian artists with stunning wooden carvings of animals, artefacts and design features. The lobby's striking chandelier and the rich hues and colours of the hotel's tapestries and paintings evoke the magic and mystery of West African culture.
This spellbinding collection of over 1,500 pieces of art adds to the unique quality of the Mövenpick Ambassador Hotel Accra. Many works have been lovingly restored from the days of the old hotel and are displayed in the main lobby and behind the reception area.
The collection includes an impressive portrait of Ghana's first President, Kwame Nkrumah, dating back to 1956, while two large murals splendidly displayed at either end of the ballroom also maintain the link with the hotel's heritage. The originals were painted by the distinguished artist Kofi Antubam, one of the founders of Ghana's National School of Painting, which inspired the painstaking reproductions created for the hotel by his students.
Mövenpick Ambassador Hotel Accra also encourages links with current Ghanaian art by commissioning work from contemporary artists. Each room has at least two original paintings by local artists and the corridors on each floor feature works from more of Ghana's prominent artists.
All hotel rooms have everything business and leisure travellers desire: spacious and contemporary, the rooms were designed to deliver a restful stay and a comfortable work environment with a large desk, free high-speed internet and a 40-inch LCD TV. Mövenpick Ambassador Hotel Accra also features 61 Executive Club rooms with their exclusive dedicated 24-hour Club Lounge, 15 junior suites and a palatial 350 square metre presidential suite, all overlooking the pool and gardens.
The Club Lounge's exclusive benefits include express check-in and check-out at the Lounge reception desk; complimentary private use of the board room for three hours per stay and complimentary pressing of two items on arrival. Club floor rooms include DVD players with access to the DVD library and an extended range of luxury designer bathroom accessories.
Jean Gabriel Pérès, president and chief executive officer of Mövenpick Hotels & Resorts, said about this newest opening: "Mövenpick Ambassador Hotel Accra is a shining example of expanding our portfolio internationally and regionally with upscale city centre hotels in vibrant urban locations. We have overwhelming confidence in the region both for business and for its fledgling tourist industry and are committed to developing more hotels in strategic locations in the African Continent."
Mövenpick Hotel Accra offers its own sublime escape from the bustle of the city life. The 16 acres of lush landscaped gardens give the hotel a resort-like feel and include the largest swimming pool in Ghana – so large that the staff serve poolside guests on roller blades to ensure the drinks stay perfectly chilled.
"We are very excited with the hotel opening. Accra is becoming the economic hub of the West African region, which offers such rich and diverse natural and economic potential. Now with the Mövenpick Ambassador Hotel Accra we blend the warmth of West African culture with the quality, reliability and the personalized service that Mövenpick Hotels & Resorts offer," said Stuart Chase, the hotel's General Manager.
Refinement is the essential ingredient in the variety of food and beverage options. 'Sankofa', an all day dining restaurant showcases multi-ethnic cuisine and live cooking stations. African lounge music and live performances complete the relaxed atmosphere in the hotel bar 'one2one', while 'casual' is the theme in the namesake pool bar and BBQ, as guests quench their thirst or savour the best grills in the city.
Mövenpick Ambassador Hotel Accra guarantees the ideal balance between work and play. A flexible 750 square metre ballroom can be sub-divided to requirements, while four meeting rooms are also equipped with the latest audio-visual equipment. Leisure facilities include two floodlit tennis courts, jogging track and a health and fitness centre offering cardio and weight training, sauna and massage rooms.
For further information and reservations, please visit the website: http://www.moevenpick-accra.com.
About Mövenpick Hotels & Resorts:
Mövenpick Hotels & Resorts, an international upscale hotel management company with over 14'000 employees, is represented in 25 countries with 71 hotels and resorts currently in operation. A further 30 properties are planned or already under construction in Ankara (Turkey), Dubai (four projects – United Arab Emirates); Abu Dhabi (three projects – United Arab Emirates), Shanghai (China), Dharamshala (India). Focusing on expansion in its core markets of Europe, Africa, the Middle East and Asia, Mövenpick Hotels & Resorts specialises in business and conference hotels, as well as holiday resorts, all reflecting a sense of place and respect for their local communities. Of Swiss heritage and headquartered in Zurich, Mövenpick Hotels & Resorts is passionate about delivering premium service, culinary enjoyment and sustainable environments – all with a personal touch. The hotel company is owned by the Mövenpick Holding (66.7%) and the Kingdom Group (33.3%). For more information please visit http://www.moevenpick-hotels.com.
###