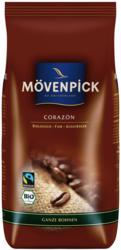 We have put sustainability at the heart of all operations.
Zurich, Switzerland (PRWEB UK) 13 January 2012
Mövenpick Hotels & Resorts continues its commitment to sustainability by introducing a series of new concepts across all its European hotels.
Throughout 2012, the upscale international hotel company of Swiss heritage will serve more than six million cups of its new Mövenpick Fairtrade Coffee and reduce annual plastic waste in all its European hotels by more than four tons by using 100,000 wooden key cards and 550,000 biodegradable pens.
"There are many ways to be more sustainable," said Ola Ivarsson, the company's Chief Operating Officer for Europe. "At Mövenpick Hotels & Resorts we are constantly adding new initiatives such as actively reducing our dependence on products made from fossil fuels and helping coffee farmers around the world secure a regular and steady income."
The introduction of the unique branded blend of Mövenpick Fairtrade Coffee is a major first for the hotel company. The special blend is designed not just to tempt the palate with a combination of select Arabica and Robusta beans but also provide sustainable income for coffee farmers around the world.
Coffee is vulnerable to extreme changes in market prices that can often lead to farmers being forced to deliver their harvested coffee beans at a loss. However, by partnering with international non-profit organisation Fairtrade, prices are fixed to ensure guaranteed incomes and any profits are poured into beneficial community projects.
Guests can enjoy a taste of this great coffee for free when they reserve a "Winter Savings" package at http://www.moevenpick-hotels.com. Booking online also guarantees great discounts of up to 30 per cent on rooms in Europe as well as free internet access which is certainly something to savour while enjoying a free coffee.
Meanwhile, the introduction of biodegradable pens and wooden door keys by Mövenpick Hotels & Resorts will reduce plastic waste across the company. Produced by Ritter Pen in Germany, the Eco-line pens are made from a cellulose base and 90 per cent compostable. With 21 hotels in Europe using an estimated 550,000 traditional seven-gramme plastic pens every year the company expects to cut annual plastic waste by almost four tons by replacing them with Eco-lines.
The introduction of the wooden key cards is also a major breakthrough. Produced by Swedish company Sustainable Cards, they have been independently certified by the Natural Capitalism Solutions and The Jegrelius Institute as more sustainable than other card material, particularly plastic, that contains eco-system damaging polyvinyl chloride (PVC). Farmed from sustainable forests in Scandinavia, the new cards will replace the old PVC versions and Mövenpick Hotels & Resorts will reduce PVC waste by 200 kilogrammes every year.
"We have embarked on a long journey with our sustainability programme, but every little action counts towards improving our sustainability performance," said Ivarsson. "And we have put sustainability at the heart of all operations at Mövenpick Hotels & Resorts. Another important initiative has been the implementation of the Green Globe certification programme in Europe and we plan to release exciting news about our successes shortly."
About Mövenpick Hotels & Resorts:
Mövenpick Hotels & Resorts, an international upscale hotel management company with over 14'000 team members, is represented in 24 countries with 69 hotels and resorts currently in operation. A further 30 properties are planned or already under construction in Ankara (Turkey), Dubai (four projects – United Arab Emirates); Abu Dhabi (three projects – United Arab Emirates), Shanghai (China), Dharamshala (India).
Focusing on expansion in its core markets of Europe, Africa, the Middle East and Asia, Mövenpick Hotels & Resorts specialises in business and conference hotels, as well as holiday resorts, all reflecting a sense of place and respect for their local communities. Of Swiss heritage and headquartered in Zurich, Mövenpick Hotels & Resorts is passionate about delivering premium service, culinary enjoyment and sustainable environments – all with a personal touch.
The hotel company is owned by the Mövenpick Holding (66.7%) and the Kingdom Group (33.3%). For more information please visit http://www.moevenpick-hotels.com.
# # #