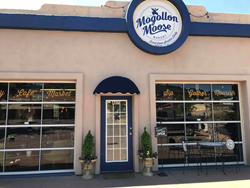 "Being named one of the Best Bakeries of the West for Arizona by AAA is an honor that we're proud to have, especially in our small, dusty cowboy town of Payson, AZ."
PAYSON, Ariz. (PRWEB) September 29, 2018
Mogollon Moose Bakery was recently named one of the best bakeries in the West by AAA. Praised for their two proprietary coffees and diverse selection of sweet treats, Mogollon Moose made the list as the must visit bakery when traveling through Arizona.
Owner and Executive Chef, Kristi Church, was enamored with the mention and stated that, "We are doing our absolute best to produce the most delicious scratch baked items in our bakery – being named one of the Best Bakeries of the West for Arizona by AAA is an honor that we're proud to have, especially coming from our small town of Payson."
Since opening in 2016, Mogollon Moose Bakery has made a continuous effort to help revitalize Payson's historic Main Street. They successfully launched their First Friday's on Main Street event, which happens on the First Friday of every month complete with live music and delicious fare. The event brings together local rim country artists as well as art enthusiasts, supporters and inclusion of other businesses on Main Street, to help bring the community together and boost business in the area. In addition to supporting the local arts, Mogollon Moose also focuses its philanthropy on supporting the Central Arizona Humane Society, Payson Senior Center and the area food banks. They have the following upcoming events:

Saturday, October 13, 2018 Mogollon Moose will participate in the Rim Country Empty Bowls event and donate their house made bread to more than 500 people who have purchased tickets. 100% of the proceeds of this event will help feed the hungry of Rim Country. Tickets are sold out, however; you may make donations to Rim Country area food banks in honor of the event. Contact through the Rim Country Empty Bowls Facebook page at http://www.facebook.com/RimCountryEmptyBowls/.
Mogollon Moose is also gearing up for holiday orders and catering. For more information, please call the bakery at 928-363-4049 or visit the website at http://www.mogollonmoose.com/catering.
About Mogollon Moose Bakery:
Mogollon Moose Bakery is a Farm to Fork Restaurant Concept, LLC. Located in the heart of Payson, Mogollon Moose Bakery was founded by Executive Chef Kristi Church in 2016, who after losing over 175lbs had a goal of providing healthier meal options that people could feel good about eating. Kristi and her team make everything from scratch daily and pride themselves on providing farm fresh ingredients. When Kristi isn't tempting someone's tummy with delicious eats, she's hiking the hills of Rim Country with her husband or spending time with her little dogs. For more information on the bakery, please visit http://www.mogollonmoose.com/.
Farm to Fork Restaurant Concept, LLC:
The restaurants within the Farm to Fork Restaurant portfolio were founded on the idea of perfecting the craft of artisan cooking by preparing food that is nurtured and respected. There are currently two restaurants under the portfolio, Mogollon Moose Bakery and the heralded 5-star fine dining New American concept; The 703 on Main, which opened earlier this year. Visit, https://www.farmtoforkrc.com/, for more information.