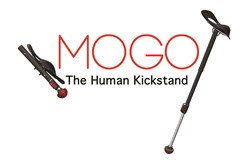 It is our mission to create products that serve a purpose.
Portsmouth, Rhode Island (PRWEB) August 20, 2013
Versatility in the workplace becomes innovation on the go. The MOGO™ portable standing desk seat from Focal Upright Furniture is designed for an upright and active lifestyle.
With a pair of perfectly good legs one might ask, why would anyone need a personal kickstand? With the new Mogo - dubbed "The Human Kickstand" - Focal has once again solved a problem before it even started trending.
Mogo is the ultimate portable seat. The newest product from Focal, makers of the award-winning Locus Workstation, Mogo goes anywhere from corporate boardroom to afternoon music festival.
Mogo is on the sidelines of the soccer field, on a hike through the state park, photographing a rare bird on the beach, and back in the conference room on Monday morning ( where it allows all those outside-the-box ideas fly!).
"We designed the Mogo upright seat after receiving great feedback on the Locus Workstation," said Martin Keen, Designer, CEO and Founder of Focal Upright Furniture. "It is our mission to create products that serve a purpose and Mogo is the perfect solution for those looking to feel comfortable and stay healthy on-the-go."
Feel Upright On-the-Go with Mogo
Weighing in at just two lbs. and made of strong, anodized aluminum, rubber and fiberglass reinforced nylon, the height-adjustable Mogo is ideal for on-the-go individuals. Fully collapsed, it easily tucks into a backpack or tote bag. Mogo has a reversible rubber "foot" that works for hard surfaces and is easily reversed to a spiked tip for softer outdoor grounds such as dirt or turf. At just $100, the "human kickstand" is ready to play a supporting role whenever it is needed, wherever it may go!
Focal Upright Furniture is fundamentally changing the way people go about the day. Company founder Keen is continuing his pursuit of re-imagining how people interact with their environment, combining an intuitive sense of what is needed with an expert eye for utility, material and form.
Readers who would like more information about Focal Upright Furniture and the all new Mogo are invited to visit http://www.focaluprightfurniture.com
To speak with Martin Keen, or to obtain more information about the Mogo, Locus Workstation and Focal Upright Furniture, please contact Nancy Trent or Pam Wadler at 212-966-0024 or pam(at)trentandcompany(dot)com.