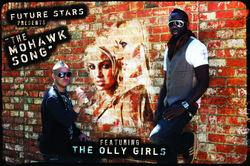 The Mohawk song is one of those feel good songs that anyone can sing along to, it has a great hook, catchy beat, and simple rhymes.
Hollywood, CA (PRWEB) June 23, 2008
"They love me for my Mohawk", a simple catch phrase that started out as a joke between two friends, is the inspiration to what could possibly be the anthem of the summer. "The Mohawk Song", a contagious rock inspired track for all who adore the "Hawk", invades the nation on June 24, 2008 when it releases digitally on iTunes by Universal Music Group.
Spawned from a simple conversation in an airport terminal between Mohawk-adorned "Future Stars" group members Justin "J-Nez" Nesbitt and Sam "Future" Sarpong (former Host of MTV's "Yo Mama" and current Soap Network red-carpet correspondent), while on their way to host an Spring Break event for MTV Canada. Less than 72 hours later, "She loves me for my Mohawk" was being chanted by over 10,000 Spring-Breakers for five days straight.
Upon returning from their hosting duties, the Mohawk rocking duo decided to turn their Spring Break theme into a record. Sarpong and Nesbitt acquired the skills of hit production team "THE ALUMNI" (Anthony Meyer and Christopher Aaron) to produce the track, and long time friends "The Olly Girls", Holly and Molly from the hit E! Network show "Sunset Tans" to sing vocals. A smash hit was born!
"We wrote this while having a fun on the road as a joke and it caught on with everyone we sung it to," says Justin Nesbitt. "The Mohawk song is one of those feel good songs that anyone can sing along to, it has a great hook, catchy beat, and simple rhymes."
The Mohawk Song is a infectiously catchy, fun, high-energy track, about a guy who is convinced that the people around him only loves him for his Mohawk who fears that if he cuts it off, they will no longer talk to him. Set to a beat that will keep listeners heads bopping and rocking all summer long, the Mohawk song is more then a song, it's a Mohawk movement!
After recording the song, Sarpong and Nesbitt decided to create a music video for YouTube.com of the song. Armed with a camcorder, hair clippers, and a sign that read "Free Mohawks", they traveled around Los Angeles soliciting everyday people who liked the track to take part in the video. Celebrities Tila Tequila, Shar Jackson, Alexis Arquette, Efren Ramirez, Drew Sidora, and Kel Mitchell also got in on the action.
"Making the video has been extremely exciting, everyone who hears the song are instantly interested in being part of the project," says Sam Sarpong. "Filming at Venice Beach was the best, we had lines of people who wanted a free Mohawk hair cuts, we must have cut 20 Mohawks that day, we had to turn people away because the charge ran out on the portable clippers. By the time we left we had an army of Mohawk loving soldiers singing the song."
Within one week of its completion, the "Mohawk Song" was picked up for distribution by Universal Music Group and fast tracked for a digital release on iTunes through "EYECON" its digital wing. The artist created music video for the Mohawk Song is viewable on YouTube.com, and myspace.com/mohawksong.
"Now that the video's done, my next goal is to get Ellen Degeneres to style her hair in a Mohawk, and rock out to the song on her show," says Justin Nesbitt.
For more information regarding Future Stars, and the Mohawk Song please visit http://www.myspace.com/mohawksong or contact:
Terrance Gillum
AB&G PR
323-875-6703
terrancegillum @ abgpr.com
For artist booking please contact:
Anthony Meyer
The Alumni
818-370-9870
thealumni @ AOL.com
###