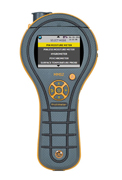 Professional Equipment's line-up has recently expanded to include hot innovations from GE, General Tools and Extech
Janesville, WI (PRWEB) March 28, 2013
Moisture meters have come a long way since they were first introduced to the market. Better technology and affordability make these investigative tools much easier to use and more efficient than before. "Professional Equipment's line-up has recently expanded to include hot innovations from GE, General Tools and Extech," said Lisa Sympson, Brand Manager of Professional Equipment. "Great technology helps serious technicians, restoration contractors and home inspectors get reliable readings when investigating for mold, water damage and more."
While GE's Protimeter with pin and pinless functionality has been an industry standard for a decade, the next generation GE MMS2 Protimeter (PE Item 214009) is built to impress. This 4-in-1 moisture management meter combines a pin and pinless moisture meter with a hygrometer and infrared thermometer, adding a datalogger to boot. It performs full building moisture diagnostics – moisture, humidity, temperature -- with one tool and without the need to plug in multiple accessories. As if that isn't enough, the built-in datalogger has the ability to record readings instantly and store up to 8000 results with date and time stamp. Think of the room saved in the toolbox by replacing four gizmos with just one!
The engineers at General Tools have also been hard at work. The new MMD950 Pin/Pinless Deep Sensing Moisture Meter (PE Item 212444) allows users to measure moisture a whopping 4" below the surface and includes a new spherical sensor design. Most popular moisture meters measure about 1" below surface, so the extra depth of this unit can help users find leaks before they hit the surface … early detection can equal less overall damage. The approximately 1"-dia. spherical sensor enables users to take readings in tight corners and hard-to-reach places better than a standard, flat-bottom pinless meter, too.
Need more readings and more reach? Extech has a solution. Use the Wireless Combination Pin/Pinless Moisture Meter MO270 (PE Item 213577). Users get the flexibility of a dual pin/pinless meter and eight detachable sensors that work wirelessly via Extech's METERLINK™ technology. Place the sensors and then view results from up to 65 ft. away. Plus, when needing more reach, the base unit includes a 4'L telescoping handle that attaches to the unit to allow the ability to evaluate ceilings without dragging out a ladder. If that's not long enough, 9'L and 16'L telescoping handles also available separately.
This barely scratches the surface. To learn more about these moisture meters and check out all the latest options at ProfessionalEquipment.com.
About Professional Equipment
Professional Equipment, founded in 1987, is the leading national distributor of top-quality testing, diagnostic and measuring equipment used by home inspectors, energy auditors, restoration contractors, HVAC contractors, electricians, property managers, general contractors, roofing specialists, insulation installers, architects, commercial building inspectors, insurance adjustors and other construction-related trades.
The PE catalog includes more than 150 pages of full-color photos of testing equipment, safety supplies and building trade support products from the best brands in the industry, including FLIR, Extech, Bacharach, Tif, Fluke, GE, Tramex, Delmhorst, Leica, Streamlight, TPI, Amprobe and UEI. The website, ProfessionalEquipment.com, has even more equipment with 14,000 items complete with product reviews.