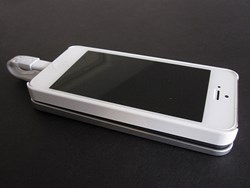 Denver, Colorado (PRWEB) March 24, 2013
According to the company iPhone 5 is a premium-level smartphone and although phone carrier subsidies have made the device a lot more affordable, buyers will invest at least $50 in a protection case that will keep it protected against damage that could impact the resale value.
But given the variety of accessories for iPhone 5 currently available, consumers are having a hard time identifying a case that will meet all their expectations.
http://www.iPhone5BatteryCase.net has released earlier this month the full reviews for the iBattz battery cases released at CES 2013. The latest to be published is the review for Mojo Hi5 Power Bank battery case for iPhone 5, a product that in terms of design, price, protection and added battery life it meets the requirements for a place at the top of the list, but not ahead of the uNu case.
Mojo Hi5 Power Bank is a "handsome" battery case for iPhone 5, allowing the user to use the snap-on case for protection and attach the 2500 mAh Li-Ion battery only when the device needs more life. At 125.7 by 60.4 by 18.2 mm and weights 76.5g, the Mojo Hi5 Power Bank isn't the world's thinnest but it remains one of the best looking iPhone 5 battery cases.
This iPhone 5 battery case is made of plastic and will leave the smartphone's top and bottom edges exposed, whereas the back panel features a tribal design and three holes needed to attach the battery pack. The battery is a metallic case which makes the overall design more eye-catching. It adds 11 hours for web browsing and 10 hours of talk time to the standard battery life of iPhone 5 today. It recharges the iPhone via an USB to Lightning port using a design that's close to the top of the list when it comes to aesthetics.
iPhone5BatteryCase.net is a website owned by Ironclad Integrity Ltd. and launched soon after the iPhone 5 release date as consumers began showing a need for specialized power accessories. Since Apple has introduced the Lightning connector, accessory makers for iPhone 5 have to design protection and battery cases that feature a way to communicate with the 30-pin port.
Reviews available on the iPhone5BatteryCase website take into account consumers' first points of interest when it comes to buying a power accessory for their iPhone 5. Factors such as price tag, protection level and mAh, design and added functionality are considered during the review process.