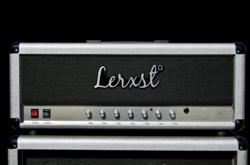 Burgaw, NC (PRWEB) February 28, 2013
Fans of Rush guitarist Alex Lifeson and his stunning guitar tone finally have the opportunity to get their hands on one of Lifeson's most prized pieces of gear. After working with engineers at Mojotone, one of the leading custom amp builders in North America, Lifeson is putting his name on an exact replica of the custom amplifier used in his guitar rig. Dubbed the Lerxst Omega, the amp will be available to the public immediately.
The Lerxst® Omega amplifier was created by Mojotone based on a vintage Marshall amp Lifeson used in the studio while recording the band's latest album, "Clockwork Angels." With select modifications made to the circuitry and an overwhelming attention to aesthetic detail, this 25/50 watt amp is a marvel in the world of modern sound amplification. And for a guitarist like Alex, who has one of the most distinctive and recognizable tones in rock music, the Lerxst has to live up to a high level of expectation.
"It sounds so good!" stated Lifeson, moments after receiving the very first build of his new signature amp. "We pulled the Marshall last night after A/B-ing the two. The tonal character is quite similar, but the response of the Lerxst® has greater immediacy, sustain and grip."
Mojotone--in direct partnership with Alex Lifeson--will produce the all hand-wired Lerxst® Omega amp ($2,995) and matching Celestion G-12M loaded Tall 4x12 speaker cabinet ($1550). The amp and cabinet will be available via the lerxstamps.com website immediately.
About the company:
Mojo Musical Supply™ has been in business for over 18 years as an amplifier cabinet manufacturer and amplifier parts supplier. Through the years, the Mojotone® line has grown to include all parts of the vintage, boutique and current production tube amp market. In addition, Mojo offers a complete line of guitar parts, pickup parts and guitar restoration supplies - including their own line of Mojotone® Custom Wound Pickups and a Signature Series featuring pickups designed by renowned techs, Lee Dickson and René Martinez. Having both East and West coast manufacturing centers, Mojo Musical Supply™ builds cabinets for over 100 boutique amplifier companies and routinely ships over 1,000 cabinets a month. Their quality is unsurpassed and their experience in guitar amplification, technical design, and customer dedication is outstanding. Mojo Musical Supply™ is committed to the highest standards of integrity, excellence and performance in dealing with both their client companies and individual customers. For more information visit their website at http://www.mojotone.com.