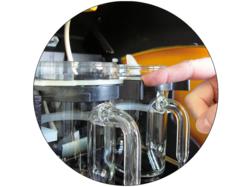 This system is designed to completely replace the Mojonnier Method, used by many for the extraction of fat with a mixture of ethyl ether and petroleum ether
Goshen, NY (PRWEB) April 08, 2013
The HYDROTHERM is a state of the art instrument brought to North America by Lab Synergy LLC. This system is designed to completely replace the Mojonnier Method, used by many for the extraction of fat with a mixture of ethyl ether and petroleum ether. This system conforms to the international standard (Weibull Stoldt) for fat determination. There is also no need for an exhaust system to operate this instrument because of its state of the art design, allowing users to work in a completely safe working environment.
Not only is the system a completely closed acid hydrolysis system, but it is also a fully automated system. It is designed to allow users to run 6 different samples either simultaneously or separately. The unit is designed with three different compartments, holding two testing burettes. The need for manual operation for this system is reduced drastically, freeing up the responsibilities of the technician.
The system comes complete with HYDROTHERM-Manager a software program designed specifically for the HYDROTHERM. This allows the user to run different types of samples as well as different number of methods on samples. Unlike before, the program allows users to "manually intervention during the extraction procedure is possible". HYDROTHERM-Manager also allows users to document methods, users, comments and many more features.
There is an endless list of applications that this system is designed for. Some examples are milk, dairy products, cereal, cereal products, meat, meat products, chocolate, cocoa products, oil, oil seeds, bread, bakery products, fruits, fat in feed, lipids in eggs, egg product, fat in dietary products and many more sample types. We have seen successful use of this instrument in several well-known food manufacturing companies here in the United States and Canada. Not only has the product worked to meet the requirements of the customer it has also exceed the expectations with the number of samples it is capable of running. It has allowed the customer to increase the number of daily samples run within their labs, while cutting the time of running those samples more then half the time. Labs are now looking at a quicker, more efficient and safer lab environment for their staff.
About The Company: Lab Synergy is equipped with trained chemists for help with method development, installation and routine maintenance of this product. If you would like more information about this product please feel free to contact us directly at 1-866-435-7897 or visit our website.