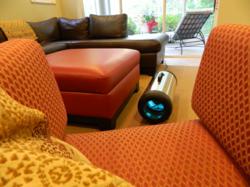 The hydroxyl generator is a product that we can proudly offer to our clients.
Clearwater, Florida (PRWEB) March 20, 2013
QCI, Florida's go-to source for water damage services, has just announced that it will distribute hydroxyl generators. In response to the trend for chemical-free solutions, the technology has become an integral component of sewage backup cleanups, fire and flood damage restorations, and mold remediations. Chemically-sensitive individuals prefer the hydroxyl generator as an alternative to anti-microbial sprays since the technology is safe for pets, people, and plants.
These compact units use moisture from the air to create a plasma from the interaction between a metal catalyst and UV rays. The hydroxyls target and destroy airborne and surface odors by breaking the chemical bonds of the molecule. This environmentally-friendly technology eliminates viruses, bacteria, and mold spores and destroys odors and pollutants. Elevated temperatures and high humidity can often heighten one's perception of smell. Used in conjunction with a dehumidifier, these air purifying canisters can speed up the elimination of excess odors. The technology is especially popular in humid states where humidity levels spike above ASTM-recommended levels of 45-55% relative humidity.
Potential owners include property managers in medical facilities, nursing homes, schools, marinas, multi-family complexes, office buildings, and hotels. Hospitality managers will use the technology to purify hotel rooms after guest smoking. Yacht owners and cruise liners can use the equipment to cleanse musty air trapped in cabins. Restaurants will be able to run the generator to minimize stale food odors. Medical facilities and nursing homes rely on hydroxyl generators to ensure healthy indoor air quality for immuno-compromised and allergic patients. Homeowners can boost cleanliness, freshen air, and rid homes of smoke and pet odors.
The generators are available in several designs which meet the needs of different industries. Yet, the hydroxyl generator complements any indoor environment. Many of the units are portable and range from 2-pound canisters that are ideal for RVs, living rooms, classrooms, office suites, and hospital rooms to 15-pound commercial units that are traditionally used during disaster restoration efforts. Homeowners and office managers will enjoy this duct-mounted air purification technology that attaches to the HVAC system to cleanse ducts effortlessly.
QCI is the trusted name for odor removal and air and surface sanitization in Florida commercial and residential markets. Stephen Delgado has been working in the indoor air quality industry for over 25 years. Stephen is excited to share this cost-effective, no-labor purification method with property owners. For more information, visit http://www.qci-online.com or call 727-686-7373.