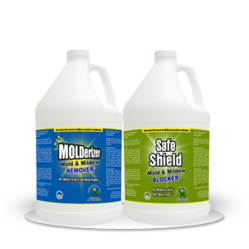 ...both Molderizer and Safe Shield could make mold removal and mold prevention truly effective without risking anyone's health.
Chicago, IL (PRWEB) March 18, 2013
A number of students at Silas Willard Elementary School were evacuated from their classroom. Based on a report by galesburg.com, it was because of mold. In response to it, My Cleaning Products said that immediate rust removal must be implemented and went on to suggest the use of the non-toxic Molderizer and Safe Shield. In addition, it offered complimentary samples of the solutions to help in the remediation process.
As stated in the report, My Cleaning Products related that a mold testing was already scheduled to solve the problem. And as it detailed, it wouldn't be just for the affected classroom. The whole building, it said, would be checked for the spores. Letters were also sent to parents with the explanation about the problem and the actions taken, it added.
The site, based on the news, shared that the room affected by mold was specifically that of the fifth-graders. And given the health risks the mold presents to students, they were evacuated. Temporarily, they were holding classes at the former Giant's building, it shared.
Here is a part of the report by My Cleaning Products.
"Mold was discovered in one of the classrooms of an elementary school in Galesburg, Illinois. And because of the many health concerns that mold presents, students were forced to move out of the room.
According to the report, the school where mold was discovered was the Silas Willard Elementary School. Specifically, it was a fifth-grader classroom that was affected. And to protect the health of the students, they were temporarily transferred to another building."
Mold exposure brings in health problems, My Cleaning Products said. A number of the examples it gave are allergies, asthma and other breathing problems. Because of those health risks, it stated that an immediate mold removal must be implemented in Silas Willard Elementary School and anywhere else where mold is present.
However, for an easier and truly effective mold treatment, MCP stated that the help of mold remediation products is needed. Of the many mold sprays though, it determined the pair of Molderizer and Safe Shield as the best.
As the website stated, both Molderizer and Safe Shield could make mold removal and mold prevention truly effective without risking anyone's health. And so, no evacuation is required. It shared that mold contractors have long been using them as they have proven that both products are indeed effective. Moreover, it explained that the sprays are organic-based, hence, they release no harmful elements.
Because of those benefits, My Cleaning Products urged the public to pick Molderizer and Safe Shield. And so they could see for themselves that both are worth their money, it also urged them to try the samples of the said solutions.
As it shared, Molderizer and Safe Shield Complimentary Samples are available at MyCleaningProducts.com.