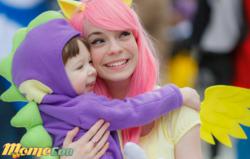 With a 42% growth in attendance, MomoCon proved it is indeed one of the fastest growing family-friendly conventions in the world.
-Jessica Merriman MomoCon Co-Chair
Atlanta, GA (PRWEB) March 20, 2013
MomoCon Anime and Gaming Convention, held March 8th - 10th at the Hilton Atlanta, celebrated its 9th year by exceeding all expectations and setting a new attendance record of 12,200 people. Greater than expected turnout is credited to the incredible celebrity guest list, and overwhelmingly positive word of mouth buzz. The attendance this year represents a 42% growth compared to MomoCon 2012, which welcomed 8600 people. "With a 42% growth in attendance, MomoCon proved it is indeed one of the fastest growing family-friendly conventions in the world." said Jess Merriman, External Chairman and founder of MomoCon. MomoCon even welcomed more local, and global media than expected according to Senior Director of Media Relations, Dan Carroll, "MomoCon 2013 provided 83 press credentials which is exceptional for a regional event. This growth represents a reflection of the quality reputation of MomoCon."
One highlight was the formal recognition of the impact of MomoCon from the City of Atlanta. Atlanta City Councilman Kwanza Hall was at Opening Ceremonies to provide an official proclamation from the City Council celebrating the impact and philanthropy of MomoCon on the city of Atlanta. MomoCon was also recognized as a partner with the Atlanta Based Charity, YoBoulevard!, where MomoCon was able to provide cultural opportunities and enrichment to many of the younger residents of the Boulevard corridor.
Not just an anime convention, 2013 was also a big year for MomoCon for fans of gaming. Several leaders in the gaming industry recognized that MomoCon has the potential to grow into a significant event on the gaming convention calender, and were represented at MomoCon 2013. Local Atlanta company Hi Rez studios, joined Bioware, and Riot Games with significant presence in the gaming and vending areas, and even provided content for a few featured panels about the gaming studios. In addition to the gaming industry presence, tournaments were held through-out the weekend, including an extensive LAN based tournament, a new feature at MomoCon. "Being able to bring a LAN party to MomoCon, including a League of Legend's Tournament was part of our commitment to grow gaming, and we were blown away at the enthusiastic response," said MomoCon Co-Chair Christopher Stuckey. MomoCon also held more traditional large gaming events such as a Magic The Gathering StarCity Qualifier, RPG Gaming area, Board Gaming rooms, and many Video Game freeplay setups which were busy with many attendees over the entire weekend.
One of the most popular panels at MomoCon covered the return of Cartoon Network's Toonami Block. The Toonami Panel featured representatives from Turner who originally created the block back in 1997, as well as the voice of the Toonami mascot, T.O.M., Steve Blum. "For the first time since the relaunch of Toonami the co-creator, voice host (Steve Blum), and Toonami staff provided a Toonami Q&A panel in front of a live audience." With over 450 hours of programming and content, there were many other panels absolutely packed with fans of animation, cosplay, gaming, and pop culture. Evening activities at MomoCon included the comedy of Laugh Out Loud, performances by Fairy Tail Podcasts and Konoha Corner, and concerts from the bands The Extraordinary Contraptions and Go, Robo! Go!. In addition to performances, MomoCon hosted a rave, a Disney Karaoke competition, a fan created music video contest, and multiple costume contests.
This year MomoCon featured many celebrity guests including animation writer, producer, and legend Mike Reiss (Simpsons, The Critic), animation voice actor Steve Blum (Cowboy Bebop, Avatar: Legend of Korra, Toonami), anime voice actor Brina Palencia (Black Butler, Spice and Wolf, and Borderlands), and popular gaming voice actors Jennifer Hale (Mass Effect, Marvel vs Capcon, Multiple Star Wars Games) and Mark Meer (Mass Effect, Baldur's Gate). Atlanta's own Amber Nash and Lucky Yates of FX's Archer returned with much enthusiasm for the convention as well. MomoCon also has an established history and strong reputation in the costuming community, this year welcoming Cosplay Superstars Yaya Han, Katie George, Riddle, Ana Aestetic, Lindze Merritt, and Monika Lee who met with thousands of fans of cosplay over the weekend.
Coming off of this very succesful year MomoCon will return in 2014 to downtown Atlanta with more celebrity guests, exciting panels, and even more events that are fun for the whole family! If you are interested in following MomoCon's 2014 announcements, please check out MomoCon.com or http://www.facebook.com/MomoCon