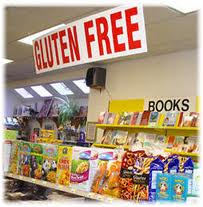 You don't have to give up your favorite meals to live a gluten free lifestyle, you just have to learn to modify.
Des Moines, IA (PRWEB) March 05, 2013
Gluten free products are flooding the shelves, gluten free menus are available at many restaurants, and meal delivery services like Mom's Meals even offer gluten free choices, but living with that diet isn't always easy.
Most gluten intolerance is a side effect of celiac disease. With celiac, eating gluten, which is a protein found in many grains (wheat, barley, rye and some oats), triggers an autoimmune reaction. This reaction leads to inflammation and damage to the lining of the small intestine which, in turn, leads to poor nutrient absorption and abnormal digestion. It needs to be taken seriously, and a gluten-free diet needs to be adopted.
Gluten's presence is obvious in many foods, but others can be "sneaky" gluten carriers, like candy, coating mixes, imitation seafood and imitation bacon, broths, marinades, sauces and gravies, seasonings, and soy sauce. Being gluten free means having to read labels!
Mom's Meals offers five tips for making gluten free easy:
1. Know your stuff. The first step is education. Which grains and starches are safe, which are unsafe? Gluten-free cooking is all about knowing what to avoid, and where to get the vitamins and nutrients you need. The best way to do this is by learning how to make substitutions. Learn how to substitute gluten-free grains and starches for wheat, barley, oats, and rye.
2. Modify your favorite recipes or have meals delivered. "You don't have to give up your favorite meals to live a gluten free lifestyle, you just have to learn to modify," says Elizabeth Elliott, Registered Dietitian, Mom's Meals. Brown rice, popcorn, quinoa, buckwheat, amaranth and other gluten-free whole grain products can be found or made in order facilitate the daily grain needs without running into gluten problems. "If cooking becomes a burden, try our gluten-free Mom's Meals shipped right to your door," said Elliott. "Just heat them and eat them, giving you a break from trying to figure it all out."
3. Visit the right places. It is possible to stay social, and enjoy eating out when living a gluten-free lifestyle; it simply requires knowing where to go. Take time to check the restaurant websites and browse menus before heading out in order to know the options.
4. Make a habit of reading labels. The best way to know if a product is gluten free is to read the ingredients label. The four main words you need to know and stay away from are: wheat, barley, rye, and oats.
5. Know how to get all your nutritional needs elsewhere. Those with celiac disease need to be careful to get all the vitamins and nutrients they need—particularly iron, calcium, and fiber, from other sources.
Mom's Meals is dedicated to providing fresh-made, nutritious, home meal delivery to customers nationwide, specializing in senior and patient care for over a dozen years. The company prepares, packages, and ships ready-to-heat and eat meals directly to a customer's door, delivered anywhere in the United States.