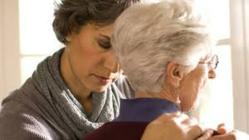 Des Moines, IA (PRWEB) March 26, 2013
So many of us feel a burden lighted with the advent of spring. But for the now 43.5 million adult family caregivers caring for someone over age 50, and almost 15-million caring for someone who has Alzheimer's or other form of dementia, the changing of the seasons may not have the same effect.
For caregivers, responsibilities are vast, ranging from bathing and grooming, to transportation, medical care, and the basic necessities of life; food, clothing and shelter.
In October, 2012, the AARP Policy Institute and the United Hospital Fund did a survey called "Home Alone," which focused on 1677 family caregivers to determine what tasks they performed in their roles, beyond what the common perception is of caregivers' responsibilities.
The study wanted to challenge the common perception of family caregiving as merely a set of personal care and household chores that most adults already do or can easily master. While those remain critically important, they wanted to show that the caregiving role had expanded into medical and nursing tasks.
The study found:

Almost half (46%) of family caregivers performed medical/nursing tasks for care recipients with multiple chronic physical and cognitive conditions.
Three out of four (78%) family caregivers who provided medical/nursing tasks were managing medications, including administering intravenous fluids and injections.
Caregivers found wound care very challenging, more than a third (38%) wanted more training.
Most family caregivers who provided help with medical/nursing tasks believed they were helping their family member avoid institutionalization.
Now that spring is in the air, it's a good time to ensure your caregiver still has spring in her step. Some simple ideas could help ease the burden.
Safety: As seniors age, reduced function can make aging in place risky. Consider adding safety features such as non-slip floors, bathroom aids such as grab bars, personal alert systems, entrances without steps or with ramps, wider doorways, lever-handled doorknobs, and higher placed electrical outlets.
Nutrition: Having nutritious meals delivered to someone's home can be a respite for the senior and the caregiver. Elizabeth Elliott, Registered Dietitian for Mom's Meals states, "Proper nutrition for seniors can significantly impact quality of life, leading to a decrease in chronic illness, improved cognitive function, more energy, and increased longevity." Their new seven-meal option allows caregivers to test the service and the company has options for those who need specific meals for diabetes, kidney disease, heart health, or gluten-free and vegetarian options.
Incontinence: Fifty-three percent of home bound older persons are incontinent and incontinence has been shown to increase the risk of falls by 26%. Addressed with the right products, including adult diapers, pads, and other incontinence supplies, can reduce that risk and make life easier for the patient and the caregiver.
Social and emotional health: Those aged 65 and older account for 12 percent of the U.S. population, and in 2004 this age group accounted for 16 percent of total suicides. Senior depression is very real, and not something to be ignored. Caregivers should encourage their loved ones to make connections. Eat with company. Exercise with groups. Join other seniors.
Physical health – For the caregiver: Knowing all that is done for aging loved ones, it's important to focus on the health of the caregiver. Making that annual check-up appointment, sleeping right, and eating the right foods allow caregivers to do what they do best.
Mom's Meals is dedicated to providing fresh-made, nutritious, home meal delivery to customers nationwide, specializing in senior and patient care for over a dozen years. The company prepares, packages, and ships ready-to-heat and eat meals directly to a customer's door, delivered anywhere in the United States.