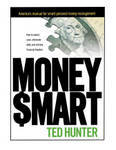 "Money isn't the most important thing in life," says Hunter, "Being Money Smart isn't just about being financially sound; it's also living the life you dreamed of–the life you deserve. I know that is achievable for everyone and is why I wrote this book."
California (Vocus/PRWEB) January 20, 2011
Ted Hunter believes the average American can manage their own money better than the financial experts and that it has become critical that they do. His new book, Money Smart and the accompanying http://www.MoneySmartOnline.com, briefly examine the failure of the predominant approach to personal money management, and empower readers to take full control of every aspect of their personal finances including spending, saving, eliminating debt, investing, and planning for the future.
Hunter's approach is demonstrated in his own financial life, as a successful investor and business man. Thirty years ago he built a booming real estate brokerage with over 100 agents, and then went bust in the real estate crash of the late '80s. Through this experience Hunter acquired insight into the cyclical nature of investment markets. Using this knowledge he then entered into the stockbrokerage industry, successfully helping his clients make money and ultimately advising his clients to get out of the stock market in early 2000 just before the stock market started to dive. In the fall of 2005 he did it again, warning all who would listen of the coming crash of the real estate market.
"The markets will always move through cycles of overpricing and underpricing and there will always be an adjustment," says Hunter. "With a rare exception, however, the financial experts didn't warn their clients not to invest in overpriced houses, or advise them to stop buying badly overpriced stocks. They failed people, and my message is that people need to learn a better approach to personal money management and manage their own money from now on. I wrote Money Smart to show everyone that they can build a successful money management plan that will withstand market fluctuations. Everybody can become money smart with some basic knowledge about money and can manage their own money better than a so-called financial expert could."
Money Smart is unique in that it offers a comprehensive personal money management education and toolset in one accessible volume, and provides access to many complementary resources such as worksheets, calculators and Hunter's up-to-date evaluations of the six major investment markets. Hunter's goal is to give valuable and essential financial guidance and tools to those who need them through the book as well as the accompanying website, http://www.MoneySmartOnline.com. Money Smart's understandable language and readable style instill in readers the confidence and knowledge essential to manage their money, both day-to-day as well as planning for the future.
"Money isn't the most important thing in life," says Hunter, "Being Money Smart isn't just about being financially sound; it's also living the life you dreamed of–the life you deserve. I know that is achievable for everyone and is why I wrote this book."
Money Smart can be purchased online at http://www.moneysmartonline.com and Amazon.com.
About the Author
Ted Hunter is a successful business man who wrote Money Smart to share his knowledge of cycles in both the real estate and financial markets and to help people take control of their money and create financial freedom.
Ted is a native of the New York City area and now resides in Davis, California, with his wife, Suchit, and their daughter, Kat. Ted is also the proud father of three adult sons: John, Dave, and Dan.
MEDIA CONTACT:
Email: connie(at)georgeacommunications(dot)com
Phone: 708-715-2079
Web: http://www.MoneySmartOnline.com
REVIEW COPIES AND INTERVIEWS AVAILABLE
# # #