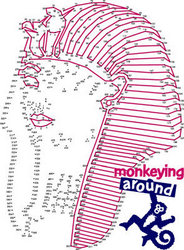 have proven themselves to be adaptable, enjoyable, quality products that make our world a better place.
Rochester, NY (Vocus) September 22, 2010
Shortly after reaching the impressive goal of ½ million books sold, puzzle designer, David Kalvitis and his staff at Monkeying Around received news that his latest Super Challenge series had been named winner of the 2010 Major Fun Award. It is the second time Kalvitis and his internationally popular puzzles have received the Major Fun Award, with their first win in 2007 for his Greatest Dot-to-Dot series.
Bernie DeKoven, known in the gaming and education communities as Major Fun, awards his prestigious Major Fun Award to "games and people that bring people fun, and to any organization managing to make the world more fun through its own personal contributions, and through the products it has managed to bring to the market." According to DeKoven's website, when reviewing products; such as The Greatest Dot-to-Dot Super Challenge books, DeKoven looks for games and toys that "have proven themselves to be adaptable, enjoyable, quality products that make our world a better place."
The Major Fun Award is based on several criteria including: easy to learn, played in under an hour, fun enough to play over and over again, easy to store, made to last, unique, multi-leveled and fun for all ages. Two-time recipient of the award, David Kalvitis states, "My goal with my Greatest Dot-to-Dot puzzles has always been to design unique, fun challenges for puzzlers of all ages. While creating my connect-the-dot puzzles I focus on three important elements: variety, artistry, and surprise. I am delighted that Major Fun recognized my efforts."
In addition to meeting the Major Fun Award criteria, it is Kalvitis's masterful use of variety, artistry, and surprise that captured Bernie De Koven's attention when reviewing candidates for his award. In 2007, De Koven stated, "Each puzzle is a work of art in its own right. When you complete a puzzle, you are rewarded with images that are themselves often surprisingly vivid, sometimes rich in detail, sometimes spare and subtle. Often drawn in perspective. Never stiff. Never blocky. Always surprising." Following the release of The Greatest Dot-to-Dot Super Challenge Book 8, De Koven stated, "I am pleased to inform you that since that review David Kalvitis has produced an impressively play-worthy passel of new, and arguably more amazing Dot-to-Dot books, introducing yet more puzzling works of dot-connecting art."
With fourteen books on the market and two more to be released in early 2011, Kalvitis's award winning puzzles continue to surpass the expectations of puzzlers across the globe. In his announcement of the 2010 Major Fun Award, De Koven stated, "If you haven't tried any of Kalvitis's amazing Connect-the-Dots puzzles, don't worry, no matter which of his books you purchase, you will find yourself gleefully connected to a series of satisfying and always surprising challenges that redefine the very nature of the Connect-the-Dot puzzle."
###