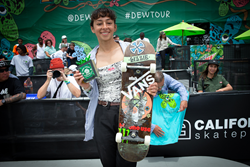 LONG BEACH, Calif. (PRWEB) June 17, 2019
Monster Energy congratulates team rider Lizzie Armanto on a strong second place finish in Women's Skate Park at Dew Tour Long Beach 2019 today. In front of a capacity crowd at the four-day skateboarding and music festival at the Long Beach Convention Center, the 26-year-old from Oceanside, California took the podium spot in a highly competitive field of the world's best female park skateboarders.
For the first time in its history, the annual Dew Tour competition doubled as an official Olympic qualifier. More than 300 of the world's best male and female skateboarders made the trip to California to compete for valuable Olympic qualifying points. Riders hailed from Brazil, Canada, Japan, Italy, Sweden France, Portugal and the United States, to name but a few countries represented in Long Beach this weekend. The highest-ranked riders will represent their countries in skateboarding's Olympic debut next summer during the 2020 games in Tokyo, Japan.
The level of competition was at an all-time high at Dew Tour this year. Since Thursday, hundreds of riders had passed through numerous qualifying rounds, with only the top eight advancing to Sunday's finals. In the Women's Park competition, Armanto found herself facing a strong Japanese contingent, with five of the final eight athletes hailing from Japan.
As a seasoned pro, Armanto had just the right bag of tricks for the winding concrete bowl set-up featuring a deep end bowl section next to several banks, extensions, wall rides, plus hips for transfers. After struggling to land a perfect run on her first two attempts, the Finnish-American who will be representing Finland at the Olympics found her line on her final run: A technical fingerflip Lien to tail in the deep end, backside air transfer into the bank, backside crailslide and backside disaster on the extension, tuck knee invert in the deep end, frontside air transfer, backside boneless on the bank and sad plant on the extension earned Lizzie 55.00 points, and a strong second place finish.
Armanto heads into her 2019 season after a milestone-heavy year: Following a first-place finish in the Women's Skate Park Event at Nitro World Games 2018 in August, the global ambassador for women's skateboarding made history as the first female skateboarder to complete the legendary Loop obstacle in a challenge hosted by skate icon Tony Hawk. Armanto's accomplishment was featured on billboards worldwide in a campaign for her shoe sponsor, Vans. She also serves as a global ambassador for skateboarding in places such as India and currently endorses a signature colorway of the Vans Slip-On Pro shoe.
Today's Men's Street event saw a major upset after reigning SLS World Champion Nyjah Huston, who emerged from Saturday's grueling Semi Final as the top qualifier, suffered a slam in the Best Trick section and had to settle for sixth place. Huston still stoked the crowd with high-scoring moves like a fakie kickflip to nosegrind off the bump to Hubba and Half Cab backside Smith revert down the Hubba.
Huston's Monster teammate Matt Berger from Canada missed the podium by a fraction of a point and was bumped into fourth place at the last second. After dealing with injuries throughout the 2018 season, Berger was back on his A-game and delivered his signature blend of technical tech skateboarding on the course in Long Beach: kickflip frontside noseslide, big spin frontside bluntslide fakie and a highly technical kickflip backside tailslide big spin on the big rail earned Berger 33.93 points and a strong fourth place finish.
Now that Dew Tour Long Beach is in the books, the next round of Olympic qualifier points will be up for grabs when the SLS World Tour returns for Stop Two on July 27 – 28, 2019 at Galen Center in Los Angeles. Also make sure to tune in from August 1 – 4 for X Games Minneapolis 2019 when Huston, Armanto, Kelvin Hoefler, Berger, Trey Wood and the rest of the Monster Energy skateboarding team will be looking for X Games medals at U.S. Bank Stadium in Minneapolis.
Download photos for editorial use.
For more Monster Energy skateboarding visit http://www.monsterenergy.com and follow Monster Energy on Facebook, Instagram, Twitter for exclusive updates.
About Monster Energy
Based in Corona, California, Monster Energy is the leading marketer and distributor of energy drinks and alternative beverages. Refusing to acknowledge the traditional, Monster Energy supports the scene and sport. Whether motocross, off-road, NASCAR, MMA, BMX, surf, snowboard, ski, skateboard, or the rock and roll lifestyle, Monster Energy is a brand that believes in authenticity and the core of what its sports, athletes and musicians represent. More than a drink, it's the way of life lived by athletes, sports, bands, believers and fans. See more about Monster Energy including all of its drinks at http://www.monsterenergy.com.