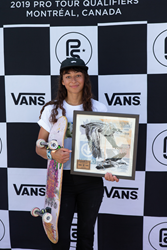 MONTREAL (PRWEB) July 14, 2019
Monster Energy congratulates team rider Lizzie Armanto on a strong third-place finish in Women's Skate Park at the Vans Park Series event in Montréal, Canada. Cheered on by a capacity crowd at the newly built concrete skateboarding facility inside Montréal Olympic Park, the 26-year-old from Santa Monica, California, earned her podium spot in a highly contested finals featuring the world's elite female park skateboarders.
Now in its fourth year, the Vans Park Series (VPS) is the official world championship format in park terrain skateboarding for men and women with a total $800,000 prize purse. This year, over 700 skateboarders from 39 countries will be battling for qualifier points at contests in Brazil, Canada, China, and France. The season's top-ranking competitors will then compete for the men's and women's titles at the Vans Pro Skate Park Series World Championships in Salt Lake City, Utah, on September 7. At four locations on the global tour – namely Shanghai, Montréal, Paris and Salt Lake City – Vans will leave the competition facilities as permanent legacy parks for local skate communities to enjoy.
As the third stop on the 2019 Vans Park Series tour, Montréal attracted an international field of riders to shred the brand-new 38,000-square-feet concrete park that will remain a permanent fixture at Montréal Olympic Park. Armanto entered as a strong contender, fresh off a second-place finish at Dew Tour Long Beach in June. In yesterday's semifinal that cut down the 20 top-qualifying skateboarders into eight finalists, Armanto stoked the crowd with roast beef transfers and Andrecht handplants to qualify in third place.
The level of competition escalated in today's finals, as Brazil's Yndiara Asp and Hawaii's Jordyn Barratt put down perfect runs to claim the top spots. Although Armanto landed standout moves like fully extended sweeper on the extension and high-speed hip transfer to frontside tailslide in the deep end, she could not rein in a perfect run on her first three attempts. Finding herself in fourth place, Armanto had only one last chance to claim a podium position in her fourth and final run of the day.
No stranger to high-pressure situations, the seasoned competitive skateboarder found her perfect line and covered the new park with her signature blend of big vertical moves, technical lip tricks and creative transfers. Opening her run by sending a highly technical ollie boardslide transfer over the hip onto the spine, Armanto landed a backside Smith grind in the deep end, feeble to frontside Smith grind spine transfer, frontside nose bonk transfer over the spine corner, frontside air and stalefish over the hip, frontside feeble grind in the deep end and fully contorted egg plant in the pool corner for 78.33 points and a strong third-place finish.
Today's third place at Vans Park Series Montréal marks Armanto's second podium finish within four weeks. She already took second place in Women's Skate Park at Dew Tour Long Beach in mid-June and is currently ranked second in the Olympic World Skateboarding Ranking, the official qualifier system maintained by World Skate for the Tokyo 2020 Olympics. On the strength of her dual citizenship, Armanto will be representing Finland if she qualifies to compete in skateboarding's Olympic debut next year.
In 2018, Armanto made history as the first female skateboarder to complete the legendary 'Loop of Death' obstacle in a challenge hosted by skate icon Tony Hawk. She travels the world as a global ambassador for skateboarding in countries such as India and currently endorses a signature Vans Pro shoe.
Download photos for editorial use.
Now that Vans Park Series Montreal is a wrap, make sure to tune in from August 1 – 4 for X Games Minneapolis 2019 when Armanto, Nyjah Huston, Kelvin Hoefler, Tom Schaar, Ishod Wair, Matt Berger, Trey Wood and the rest of the Monster Energy skateboarding team will be looking for X Games medals at U.S. Bank Stadium in Minneapolis.
For more Monster Energy skateboarding visit http://www.monsterenergy.com and follow Monster Energy on YouTube, Facebook, Instagram, Twitter for exclusive updates.
About Monster Energy
Based in Corona, California, Monster Energy is the leading marketer and distributor of energy drinks and alternative beverages. Refusing to acknowledge the traditional, Monster Energy supports the scene and sport. Whether motocross, off-road, NASCAR, MMA, BMX, surf, snowboard, ski, skateboard, or the rock and roll lifestyle, Monster Energy is a brand that believes in authenticity and the core of what its sports, athletes and musicians represent. More than a drink, it's the way of life lived by athletes, sports, bands, believers and fans. See more about Monster Energy including all of its drinks at http://www.monsterenergy.com.